Menu
Concerts
Reviews
Multimedia
Legal Information
Home > Live CDs Analyzed > It's A Matter Of Time vs Vegas Rhythm
It's A Matter Of Time versus Vegas Rhythm
by Henryk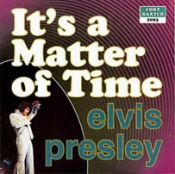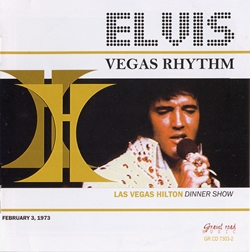 It's A Matter Of Time (Fort Baxter) [February 3, 1973, Las Vegas, NV (Dinner Show)]
a nearly complete (see below) soundboard recording of good sound quality;
the show is mislabeled as being from February 5, 1973 Dinner Show, whereas in reality it's the Dinner Show of February 3;
the CD features 18 tracks, but as many as 21 are listed on the back cover (see below)
the "2001: A Space Odyssey" opening theme and "See See Rider" are presented as a single track (yet listed as two on the back cover); the same goes for "Until It's Time For You To Go" & "You Don't Have To Say You Love Me" and "Suspicious Minds" & "Band Introductions" - one track on CD, two in the printed track listing;
the title of the CD originates from the disc's bonus track a unique rendition of "It's A Matter Of Time" as recorded by an audience member in Las Vegas on August 25, 1973 (Midnight Show);
the August 25, 1973 Midnight Show was released on two different CDs in 2007 as (you've guessed it) "It's A Matter Of Time" and "Summer Festival '73";
basic artwork and design, the 4-page booklet features three 'live in concert' photographs of Elvis: in 1972 wearing the White Fireworks (aka Tiffany) suit, in 1974 wearing the Mad Tiger suit, and in 1971 wearing the Snowflake (aka Spectrum) suit; no liner notes are included, only the track listing
Running time: 53 min. 05 sec.
The Feb. 3rd show: 50 min. 45 sec.
Vegas Rhythm (Gravel Road Music) [February 3, 1973, Las Vegas, NV (Dinner Show)]
a complete soundboard recording of very good sound quality (significantly improved when compared to the original release of the show);
the date of the show given as February 3, 1973 on the front cover, yet the back cover (mistakenly) claims it's February 5, 1973;
20 tracks in total, featuring the complete Closing Vamp (minus the short fade out);
presented in a regular jewel case including a 20-page booklet featuring a "Souvenir Photo Album" comprised of Ed Bonja's January 1973 Las Vegas engagement photography, complimented by newspaper reviews, brief liner notes and technical data.
Running time: 51 min. 05 sec.
General comments:
an entertaining show, with a lot of singing and not much joking around with the audience or band members;
Elvis is in a very good voice thus the vocally demanding songs ("You Gave Me A Mountain," "What Now My Love," "I Can't Stop Loving You," "An America Trilogy") sound very impressive;
an unusually long (for the time period) version of "Suspicious Minds" running for a little over five minutes and featuring a little banter in the middle of it.
Running time differences:
"It's A Matter Of Time"
17. Can't Help Falling In Love / Closing Vamp (faded out) 1 min. 45 sec.
"Vegas Rhythm"
20. Can't Help Falling In Love / Closing Vamp (faded out) 2 min. 10 sec.