Menu
Concerts
Reviews
Multimedia
Legal Information
Home > Live CDs Analyzed > Opening Night 1969 versus The Return Of A Prodigy
Opening Night 1969 versus The Return Of A Prodigy
by Henryk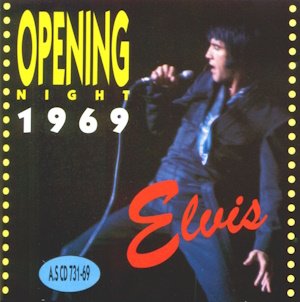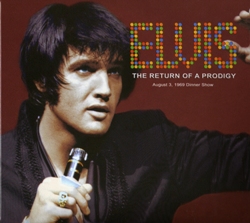 Opening Night 1969 (Fort Baxter) [August 3, 1969 DS.]
a nearly 100% complete soundboard recording (see the fade-in/fade out info below) of a very good sound quality (though a bit echo-y);
mislabeled by the producers as the Opening Night (the liner notes imply it is the August 1st, 1969 concert);
19 tracks in total, with no closing vamp of any kind;
Opening Theme and "Blue Suede Shoes" are one track (labeled simply as "Blue Suede Shoes");
"Yesterday / Hey Jude" presented as a single track;
several fade-in and fade-out 'silent passages' follow/precede certain tracks (e.g. Hey Jude - Band Introductions) making the show run a little longer than on the Gravel Road Music re-release;
basic artwork and design (a 4-page booklet only, featuring 3 1969 live-in-concert shots plus short liner notes "setting the scene" for the concert).
Running time: 66 min. 40 sec.
The Return Of A Prodigy (Gravel Road Music) [August 3, 1969 DS.]
a complete show, with improved audio quality and no (artificial) echo effect;
21 tracks in total, with the final two being the celebrity interviews (track #20, said to be recorded prior to the July 31, 1969 Opening Show, yet it seems the interviews were conducted a year later, i.e. prior to the August 1970 Vegas season) and two radio sports advertising Elvis's 1969 International Hotel appearances (track #21);
no fade-ins/fade-outs or the silent sections make the show's running time a tad shorter than on the Fort Baxter original release;
the Opening Theme and "Blue Suede Shoes" are presented as two separate tracks;
"Yesterday / Hey Jude" presented as a single track;
beautiful design and artwork (a 32-page booklet, with extensive liner notes plus a good number of July/August 1969 in-concert photographs);
supplemented with a set of two bonus promo cards (either in color or black-and-white) featuring 1969 in-concert photographs, housed in an attractive 'retro-feel' envelope.
Running time: 78 min. 26 sec.
Running time (the concert): 65 min. 59 sec.
General comments:
the recording of the concert is the earliest Elvis soundboard recorded show known to exist;
"Blue Suede Shoes" is preceded by a 24 sec. orchestra intro;
a tape twist can be heard during "Yesterday" (@1:38);
a cheeky lyric change at the start of "Yesterday" by Elvis ("I'm not half the stud I used to be...");
the show features a relatively short "life story" monolog (four-and-a-half minutes only);
the rendition of "Suspicious Minds" is really wild here, clocking at over seven-and-a-half minutes;
"Can't Help Falling In Love" is played and sung at a significantly slower tempo than in the years to come making it a much better and intimate performance here (very similar to the '68 Comeback Special version).
Running time differences - "Can't Help Falling In Love":
| | |
| --- | --- |
| "Can't Help Falling In Love" (August 3, 1969, DS) | 2 min. 10 sec. |
| "Can't Help Falling In Love" (August 26, 1969, MS) | 1 min. 56 sec. |
| "Can't Help Falling In Love" (August 10, 1970, OS) | 1 min. 45 sec. |
| "Can't Help Falling In Love" (March 22, 1975, MS) | 1 min. 37 sec. |