Menu
Concerts
Reviews
Multimedia
Legal Information
Home > Songs & Tours Reviewed > Elvis: 1972 - Love in Las Vegas and For the Good Times in Hawaii Part 1

Songs and Tours Reviewed
Elvis: 1972 - Love in Las Vegas and For the Good Times in Hawaii Part 1
January - June 1972 by Geoffrey Mc Donnell-Australia.
1972 notably started for Elvis with his 37th Birthday party - but Priscilla had already left for her own apartment in Los Angeles with Lisa Marie. On Wednesday 19th January Vernon Presley with Mayor Wyeth Chandler raised the first of the Elvis Presley Boulevard signs at a ceremony in front of Graceland
Although Elvis wasn't happy about Priscilla moving out with Las Vegas opening only a week away there was too much work preparation to do to think much about that yet. Very NEW and noticeable for this Vegas season was J. D. Sumner & Stamps replacing the Imperials with him in Nevada and Jackie Kahane a Canadian comedian replacing Bob Melvin. Both the Stamps and Jackie Kahane had started on Friday, November 5th 1971, - the day fireworks started happening musically in Elvis's shows. Priscilla's influence with the capes seen last year particularly on the November tour was evident in Vegas as the 'on tour' suits premiered in Vegas, with some 2 piece pants and slacks, the long flowing capes were now particularly evident which appeared very dramatic as Elvis was to include 'new' material such as 'AN AMERICAN TRILOGY'. This was a medley of 3 songs successfully fused together by singer Mickey Newbury ;- 'DIXIE' ,'THE BATTLE HYMN OF THE REPUBLIC' and 'ALL MY TRIALS'. Nowadays of course we all recognize this as Elvis's own personal Anthem. Elvis always wore his 'cape' for 'AN AMERICAN TRILOGY' always wanting to perform it 'DRAMATICALLY' It was only after 72 in 73/74 that Elvis would sometimes quip comments or sing along with the Stamps when he started straying from purely 'straight' versions and not always taking his performance of 'AN AMERICAN TRILOGY' quite as seriously. I find this sometimes amusing in performance but on a second hearing in this particular song anything other than a 'straight' performance tends to annoy on repetition. For this reason I feel that Elvis's very best performances of 'AN AMERICAN TRILOGY' do in fact come from 1972! .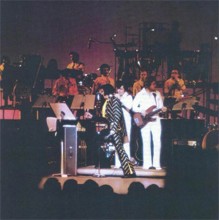 Las Vegas, January / February 1972. Sean Shaver Đ
Also very 'NEW' for this Winter 72 Vegas season was Hoyt Axtons 'NEVER BEEN TO SPAIN' which was a hit for Three Dog Night (Groups had strange names even back then!) For Elvis this received a typical 'punchy' Vegas arrangement and Elvis certainly seemed to identify with the lyrics as time went on and he stayed in America. 'NEW' here was Elvis opening a window on his personnel life with a good moving version of the 10 years old Marty Robbins song: 'YOU GAVE ME A MOUNTAIN'. I'LL REMEMBER YOU was also included early on in the engagement the first time live in Nevada since the June 10th 1966 recording. 'A BIG HUNK O'LOVE' was also re-vitalized from the June 10th 1958 sessions!. RETURN TO SENDER was sung from the picture Girls, Girls, Girls and here C.C. RIDER now replaced THAT'S ALL RIGHT MAMA for the of opening number in shows.
The 'ORION' story from Impersonator Jimmy Ellis started in 1972 starting with the release on the re-incarnated Sun Records release of; - THAT'S ALL RIGHT / BLUE MOON OF KENTUCKY by vocalist Jimmy 'ORION' Ellis. Some 16 years later we got THE Elvis FILES with Gail Brewer Georgio 10.10.88 phone call. over the years Mr. Jimmy Ellis has recorded and appeared live wearing a mask many times and has sung many songs with an 'uncanny' likeness to Elvis most notably ' FEELINGS ' and also worth a listen too in relation to Elvis's marital situation in 1972 is the track: "SHE HATES TO BE WRONG" David Wilkins 1991
In this Winter 72 season Elvis also continued featuring 9 songs from 1971: "PROUD MARY", "UNTIL IT'S TIME FOR YOU TO GO", "IT'S OVER", "IT'S IMPOSSIBLE", "THE IMPOSSIBLE DREAM", "HELP ME MAKE IT THROUGH THE NIGHT", "THE FIRST TIME EVER I SAW YOUR FACE", "THE HAWAIIAN WEDDING SONG", "YOUNG AND BEAUTIFUL" rarely and also very rare: "MEMPHIS TENNESSEE". A one liner of "CARRY ME BACK TO OLD VIRGINIA" is sung before singing NEVER BEEN TO SPAIN at the 22nd February Dinner show. (sung at LEAST 5 "known" times in 1972) Along with regular favorites of another 20 songs Elvis's line up was a very high quality collection of 35 interesting and varied songs, old, new, re-vamped, surprises and the one liner riveting material indeed!. Therefore for his winter 72 engagement from 26th January - 23rd February, Elvis was "GEARED UP" and ready as usual. There is a nice photo published recently of Elvis accepting "The Lord is My Shepherd" quilt before his opening performance at the Las Vegas Hilton on January 26th well done Mr. Tunzi yet again! Through the entire engagement of 57 shows Elvis seemed to be concentrating and keeping his mind on his show performance, as was very physical with many karate moves throughout his very polished but consistently short shows (2 shows a night of 45 minutes each or less!).
In 1972 Las Vegas seasons, Elvis was the best consummate performer around. The Hotel liked the shows short and gave him the gold belt he showed off at the 9th June press conference. In this engagement Elvis was all business with a notable lack of stage chat which ended up pleasing everyone, the Hotel and Fan alike. If you found the shows short i.e. the 21.2.72 D/S ONLY 40 minutes long but great QUALITY -it's difficult to fault the QUALITY of Elvis's performances in this engagement as although you may find the 39 minute 19.2.72 M/S rather flat/dull this is the exception rather than the rule. Indeed RCA recorded some great quality shows from 14th-17th February 72 and at the time had planned up to the stage of completed art work for the project STANDING ROOM ONLY. This project was never realized (with a photo on it from the Jacksonville 16.4.72 A/S that ended up on the Madison Square Garden L.P.) However AN AMERICAN TRILOGY was released reportedly from the 17th February. Where as IT'S IMPOSSIBLE ended up being released later on the 1973 album released in June 73 called Elvis which also included 'FOOL' from 1972. In Winter 72 Elvis absolutely delighted being on the same stage as his Heroes J.D. Sumner & Stamps enjoying himself and keeping his act taught. Reportedly Priscilla told Elvis she was leaving him just before he had to perform the closing Dinner show on 23rd February, but nevertheless Elvis the showman went out to perform as usual. Looking at the season shows are VERY CONSISTENT. Elvis seemed to favor performing' HELP ME MAKE IT THROUGH THE NIGHT at the end of the season ( which would hardly need rehearsal for the April tour! ) and Elvis seemed to experiment more at the beginning of the season SUCH as with SPANISH EYES at the 7.2.72 M/S and the LITTLE SISTER / GET BACK medley cit the 6.2.72 M/S. Many celebrities came to see Elvis such as Michael Caine introduced at the 22.2.72 D/S, Michael an Elvis fan even got married on Elvis's birthday in Las Vegas on 8th January 1973. Elvis closed his Winter Vegas engagement on the February 23rd M/S
After Vegas was over still many exciting projects were planned for 1972/3 and the first was Elvis ON TOUR. After one of the February shows at the Hilton Elvis and the Colonel met Bob Abel and Pierre Adidge backstage and apparently got on together very well, so well that that in March Pierre Adidge was allowed to travel with the Colonel to look at the Auditorium's Elvis was going to play in April. Then as well as recording 'NEW' material at the end of March they were allowed to film Elvis and his band as they re-rehearsed the newly recorded songs on 30th March, the on March 31st went through songs for the TOUR in April. For over 5 years now an awful lot of these 'rehearsals' have seen the light of day such as multitude releases of FOR THE GOOD TIMES, YET! when we DID GET the 'studio' version MASTER it wasn't perfect and a bit lifeless maybe we were spoilt by getting all the great 'outakes' first. The joke start to YOU GAVE ME A MOUNTAIN - YOU GAVE ME A MOLEHILL' was very notable from these sessions which have given us 5 hours of released tapes from the 30th and 31st March rehearsals.
As far as the STUDIO recordings from 27th - 29th March they are suprisingly similar in THEME to Richard Harris's February 1972 released MY BOY Album on probe. Elvis recorded 7 songs: SEPARATE WAYS, FOR THE GOOD TIMES, WHERE DO I GO FROM HERE, BURNING LOVE, ALWAYS ON MY MIND, IT'S A MATTER OF TIME. Thus 3 songs short of an identical style of divorce CONCEPT album that Richard Harris ha just released! clearly no coincidence!. Looking at all the songs recorded the most overwhelming point is that they're ALL OUTSTANDING QUALITY and Elvis put tremendous care in 'crafting' his songs here and he got total commitment albums such as 'SEPARATE WAYS' should have been the title for this CONCEPT album but as usual RCA blew the chance and the Colonel's influence materialized as a release including songs from the 'WILD IN THE COUNTRY' soundtrack sessions plus whole lot of such styled compilation albums whilst Elvis was very much alive and they must take part of the blame for bland both covers and contents surely instead of 1.) BURNING LOVE AND HITS FROM HIS MOVIES 2.) SEPARATE WAYS 3.) Elvis including FOOL. It still isn't too late for the MASTER 7 tracks plus a 'live' an studio version of 'MY BOY' the 10th track an unreleased version of 'HURT' with good liner notes and a front cover picture of Elvis's October 9th divorce on the cover which would then make a release STRONGER than Richard Harris's CONCEPT. A perfect and faultless release of 1972 related Elvis material.
Material from 30th and 31st March for the most part has appeared on 4 separate releases namely: LOST ON TOUR, LOST ON TOUR, THE SEQUEL, REHEARSAL FOR THE HAMPTON ROADS CONCERT and BETWEEN TAKES WITH Elvis, basically the 2 first releases give us 90% of the QUALITY outakes and the rehearsal for the Hampton roads concert just given us rehearsals commonly sung 'live' in the Spring of 1972. Between takes gives us JUST THAT! i.e. plenty of dialogue which is barely audible, many one liners of songs but virtually NO complete songs as this seems only about 10% singing padded out with chat and other bits and pieces spread thinly over 6 sides of vinyl!. most of the material has been heard on the other 3 releases. OK 2 lines of 'HELP ME MAKE IT THROUGH THE NIGHT" a few second only of the ENDING of "YOU BETTER RUN", fragments of "NEVER BEEN TO SPAIN" , "THE HAWAIIAN WEDDING SONG" and "THE FIRST TIME EVER I SAW YOUR FACE". A typical example and you can hardly make out these 'snatches' full of countless camera comments about 'Thomas is rolling' which will drive you nuts, the annoying 'turning the pages' section after the end of "YOU BETTER RUN" is ridiculous. It's like panning for gold in a river - admittedly there is SOME GOLD on this non-recommended release - give this one a wide berth and stick to the LOST ON TOUR releases.
Fortunately at LONG LAST some DUST and even a few lumps of GOLD are being released by BMG (Congratulations for the Concept & selection from the 31st March material recorded! as they list Bosom of Abraham , I John, You Better Run - (Run and buy this!), Lead Me, guide Me and Turn your Eyes upon Jesus / Nearer My God To Thee. As all well have so far is 3 different 'audience' recordings of 'Bosom of Abraham - You Better Run this 4th version in much better sound quality is very, very welcome!. the last song listed was detailed in FULL by fellow Aussie David Martin as a medley of : MUST JESUS BEAR THE CROSS ALONE, TURN YOUR EYES UPON JESUS - NEARER MY GOD TO THEE'. Unless a tape recording of March 73 can be found 'UNTIL THEN' This 2 CD set 'AMAZING GRACE' from BMG would have correct as 'Elvis's Greatest sacred Performances' on one release to date! 'O Happy DAY' the day THIS has been released!!. indeed the gospel song that David martin detailed is a medley of 2'40" songs with a 1'25" version of 'NEARER MY GOD TO THEE' (before the 1 minute reprise ) rounding off this 3 minute gospel medley from Elvis which clearly Elvis may have learnt from THE IMPERIALS. Interestingly it's also good to hear Elvis relax and 'hang loose' with his MOLEHILL version of YOU GAVE ME A MOUNTAIN or the pre-song dialogue lead into a take FOR THE GOOD TIMES!
On March 30th the following songs were sung, varying from 1 to many 'takes':
BURNING LOVE
HOW THE WEB HAS WOVEN
FOR THE GOOD TIMES
EL PASO*
FOR THE GOOD TIMES (reprise)
JOHNNY B. GOODE
A BIG HUNK OF LOVE
ALWAYS ON MY MIND
SEPARATE WAYS
MY BABY LEFT ME+

+ 1 line * 2 lines
On March 31st the following songs were sung:

UNTIL IT'S TIME FOR YOU TO GO                   SEE SEE RIDER
POLK SALAD ANNIE +                              PROUD MARY
I CAN'T STOP LOVING YOU +                       RUN ON +
AN AMERICAN TRILOGY                             I JOHN
LOVE ME +                                       JESUS GOD'S SON (Improptu)
ALL SHOOK UP +                                  LIGHTHOUSE
HEARTBREAK HOTEL +                              STEAL AWAY (Trad spiritual) &
TEDDY BEAR - DON'T BE CRUEL                     THE WHEEL
HOUND DOG                                       BOSOM OF ABRAHAM        
THE FIRST TIME EVER I SAW YOUR FACE             YOU BETTER RUN
A BIG HUNK O'LOVE                               LEAD ME, GUIDE ME
A BIG HUNK O'LOVE (reprise)                     SWEET SWEET SPIRIT
SEE SEE RIDER +                                 MUST JESUS BEAR THE CROSS ALONE
FOR THE GOOD TIMES                              TURN YOUR EYES UPON JESUS
I'LL REMEMBER YOU *                             NEARER MY GOD TO THEE       
FUNNY HOW TIME SLIPS AWAY                       NEARER MY GOD TO THEE (reprise)
BURNING LOVE - CATTLE CALL + OVER THE RAINBOW   SEE SEE RIDER
HELP ME MAKE IT THROUGH THE NIGHT *             NEVER BEEN TO SPAIN +
LAWDY MISS CLAWDY                               YOU GAVE ME A MOUNTAIN
RELEASE ME                                      THE HAWAIIAN WEDDING SONG

+ one line   * 2 lines
& This 4 minute traditional spiritual song is easily available on 10,000 voices
at Cardiff Arms Park CD (A slow song) NOT to be confused with Phil Coulters song.

NB. As appeared on 'BETWEEN SONGS' Elvis is heard uttering lines from I'll Remember You to the band and LIGHTHOUSE before stage performances. These were recorded on tour in April.
Before and after the 18.4.72 San Antonio concert: an impromptu at the piano was recorded before the show of I JOHN / I NEED YOUR LOVING EVERYDAY (first heard at the 14.8.71 M/S). then after the show in Elvis's car HOT TIME IN FLORIDA / RAINY NIGHT IN GEORGIA / FOR THE GOOD TIMES were also featured.
All the excitement Abel and Adidge were experiencing was coming up to Elvis's April 72 tour, a MAJOR TOUR 19 shows over a couple of weeks. This tour unlike some others was a big one in that it attempted to go right across America only missing some of the west coast and middle north parts to be covered later in 1972. As can be seen from the LOST ON TOUR releases available many songs were considered and not all used, others only sung once on this tour. Most noticeable with this tour was the inclusion since Las Vegas of the newly recorded BURNING LOVE only 2 times and possibly at all shows FOR THE GOOD TIMES.
Rarer but indeed sung on this tour were: THE FIRST TIME EVER I SAW YOUR FACE, ARE YOU LONESOME TONIGHT, I'M LEAVING, HOW GREAT THOU ART, YOU'VE LOST THAT LOVING FEELING, IT'S OVER, YOU DON'T HAVE TO SAY YOU LOVE ME, LAWDY MISS CLAWDY, HELP ME MAKE IT THROUGH THE NIGHT AND THAT'S ALL RIGHT but usually for this tour Elvis opened with C.C. RIDER. suits worn were based on the recent Las Vegas season featuring the capes, the light blue jumpsuit with white cape, white jumpsuit with red cape, white jumpsuits with black cape, red jumpsuit with white cape, dark blue jumpsuit with gold cape, white jumpsuit with blue cape.
SCHEDULE SHOW


---

DATE
CITY
PLACE

---

April 5, 1972. (8:30 pm).
Buffalo, NY
Memorial Audtorium
April 6, 1972. (8:30 pm)
Detroit, MI.
Olympia Stadium
April 7, 1972. (8:30 pm)
Dayton, OH.
Univ. Of Dayton Arena
April 8, 1972. (2:30 pm).
Knoxville, TN
UOT Stokely Athletic
April 8, 1972. (8:30 pm).
Knoxville, TN
UOT Stokely Athletic
April 9, 1972. (2:30 pm).
Hampton, VA.
Robert's Hampton Roads Coliseum.
April 9, 1972. (8:30 pm).
Hampton, VA.
Robert's Hampton Roads Coliseum.
April 10, 1972 (8:30 pm)
Richmond, VA
Richmond Coliseum
April 11, 1972 (8:30 pm).
Roanoke, VA.
Civic Center Coliseum.
April 12, 1972 (8:30 pm)
Indianapolis, IN.
Fair Grounds Col.
April 13, 1972 (8:30 pm).
Charlotte, NC
Charlotte Coliseum
April 14, 1972. (8:30 pm).
Greensboro, NC
Greensboro Coliseum
April 15, 1972. (2:30 pm).
Macon, GA
Macon Coliseum
April 15, 1972. (8:30 pm).
Macon, GA
Macon Coliseum
April 16, 1972. (2:30 pm).
Jacksonville, FL
Veteran's Memorial Coliseum
April 16, 1972. (8:30 pm).
Jacksonville, FL
Veteran's Memorial Coliseum
April 17, 1972. (8:30 pm).
Little Rock, AR
T.H. Barton Coliseum.
April 18, 1972. (8:30 pm).
San Antonio, TX
Convention Center.
April 19, 1972. (8:30 pm).
Alburquerque, NM
Tingley Coliseum.
Elvis started this tour very well in Buffalo and 'magic' in this show is Elvis's mesmerizing performance of 'UNTIL IT'S TIME FOR YOU TO GO' video footage of this show shows Elvis looking fine in his light blue jumpsuit. This is the show where Pierre Adidge looked on as a woman ran down the aisle at the stage like a missile! ending up in the drums just missing Elvis!. Elvis on tour sure holds a lot of excitement!.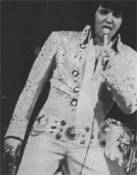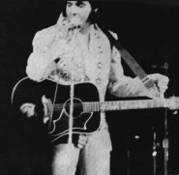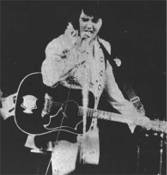 Buffalo, NY, April 5, 1972
Abel and Adidge interviewed Elvis in a 2 hour recorded interview and Elvis's voice over during 'ON TOUR' (until id-72 still under the working title of 'STANDING ROOM ONLY' - of which RCA had also gone so far to do a 'mock up' album cover! for the Jan/Feb engagement recordings not now released) Elvis's voice DOES give 'ON TOUR' that PERSONNEL touch! mainly however in 1972 Elvis LOVED Las Vegas - would you believe THREE MONTHS spent there by Elvis in 1972 alone-incredible, just about his 2nd home
Many more shows were filmed than we will probably fully known, some are incomplete shows only and some just silent film, some were just photographed such as the much published Jacksonville 16.4.72 A/S photos on the cover RCA Madison Square Garden L.P. and the Aloha from Hawaii L.P. covers. However it is well documented that Elvis 'ON TOUR' is made up from the following shows.
---

5.4.72
Buffalo
light blue jumpsuit
9.4.72 E/S
Hampton Roads
light blue jumpsuit
10.4.72
Richmond
Red jumpsuit
14.4.72
Greensboro
dark blue jumpsuit
18.4.72
San Antonio
white jumpsuit
excerpt from the Madison Square Garden Press Conference 9.6.72

---
Well we've had the Hampton Roads, Greensboro concerts and most recently the 'San Antonio re-mix' with the Organ and Rhythm guitar Prominent (Frank Strazzini on a bad day? and john Wilkinson?) all released with clear sound from the 'on tour' tapes for us to enjoy - what's next Richmond Virginia 10.4.72? Looking at the finished "ON TOUR' movie and the tour as a whole the most negative part that cannot be overlooked is that Elvis looks very pale in color but NOTICEABLY WELL at the 9.6.72 Press conference. Elvis also looks as if he'd eaten too many cakes before the April and November tours, but this aside "ON TOUR" DOES do justice to Elvis capturing the 'EXCITEMENT' as well as giving us MANY 'rare' filmed performances despite recent releases are STILL down in the Kansas City salt mines!!!. Despite these facts 'ON TOUR' is significant ly? BETTER than 'THAT'S THE WAY IT IS' and remains interesting after many repeated viewings indeed 'ON TOUR' is the closest we can now get to Elvis as are excellent books such as Chris Browns on tour 14, 1975 - more of these books please!. Thankfully 'rare' footage of Elvis arriving in his plane at Roanoke on 11th April in the back of his car after the show on 18th April ARE included on tour. Still certainly there is easily enough material left over to make a complete 'ON TOUR #2' YES! There's THAT MUCH on a shelf somewhere - just look at the picture in Gerry Mc Lafferty's excellent book 'ELVIS PRESLEY IN HOLLYWOOD' on page 196 - wouldn't we ALL like to have that little lot in our video collection. Risking eye strain from this picture I'm sure I can see tapes of the show in charlotte on 13th and Albuquerque 19th April as well as tapes shot in Jacksonville, Little Rock, Knoxville, and Las Vegas. Personally I'd like to see where possible complete concerts from this April tour released as 'individual Videos, then we could more easily enjoy each 'different' performance.
Starting for the first few days shows were mixed i.e. some parts good, other parts not so good as Elvis got better as he got into the tour. By Hampton roads on 9th April Elvis certainly showed he had it all together, and after these shows were seem consistently good until the finish of the tour 'said'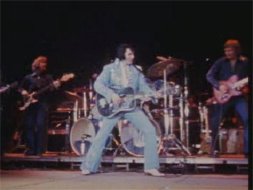 Hampton Roads, VA. April 9, 1972 (8:30 pm)
Track listing for Elvis's Hampton Roads 9.4.72 A/S: Thanks to D.G. Hall
2001 Theme / C.C. Rider / Proud Mary / Never Been To Spain / You Gave Me A Mountain / Until It's Time For You To Go / Polk Salad Annie / Love Me / All Shook Up / Teddy Bear - Don't Be Cruel / Jailhouse Rock / One Night / Hound Dog / Help Me Make It Through The Night / Bridge Over Troubled Water / Love Me Tender / Suspicious Minds / An American Trilogy / Heartbreak Hotel / For the Good Times / How Great Thou Art / Lawdy Miss Clawdy / A Big Hunk Of Love / Funny How Time Slips Away / Can't Help Falling In Love
Press reviews from later shows in this tour loved Elvis' shows as Elvis shook them up in Jacksonville and still showed the ability to make an enthusiastic audience in San Antonio - reflecting his permanent appeal. In his last tour show the headlines were 'Elvis KNOCKS "EM COLD' Interestingly in the tour as well as in Las Vegas Elvis had sung 1 line of CARRY ME BACK TO OLD VIRGINIA at the 22.2.72 D/S after PROUD MARY. in Roanoke he sang it again after the false start ONLY of 'HELP ME MAKE IT THROUGH THE NIGHT' after POLK SALAD ANNIE, then again in San Antonio on 18th after POLK SALAD ANNIE. during the next tour in June Elvis sang ― a line after POLK SALAD ANNIE at the Fort Wayne 12.6.72 show. therefore certainly Elvis would have dropped this one liner many more times as it crops up quite often in available shows from 1972.
Interestingly Elvis the Humanitarian was found with terminally ill cancer victim Denise Sanchez outside the Coliseum before his 19.4.72 show and then during the show dedicated the song 'YOU GAVE ME A MOUNTAIN' to her but before he started the band struck up 'LOVE ME TENDER' Instead as an affectionate gesture towards Denise. In San Antonio on 18.4.72 one of the high lights of the concert was BURNING LOVE later again in San Antonio on 27.8.76 show Elvis sang BURNING LOVE.
Elvis seemed in good spirits despite the recent split from Priscilla but did include many soulfull versions of the reflective but philosophically performed 'FOR THE GOOD TIMES' however despite Elvis 'joking' about women on this tour for the camaras after the charlotte 13.4.72 show Elvis was very depressed talking to Kathy Westomoreland and couldnīt sleep well before the Greensboro show the next day. Therefore Elvis was a bit sleepy and subdued for the Greensboro show but did concentrate on fine vocal performances of songs in this show.
After the April tour Elvis flew back to Memphis, then by May 11th Elvis was in Honolulu staying at the Hilton Hawaiian village along with his family and 12 friends. In 1972 especially for the first 6 months Elvis's shows were very physical and whilst in Hawaii Elvis attended a karate demonstration, then purchased opels before returning home via Las Vegas where Elvis dropped in on Glen Campbell's show at the hilton on may 28th (unintentionally taking over the show). Las Vegas has and still is a good place to catch shows in May and Elvi sliked to watch as well as perform and Vegas was another of his 'homes'. For Example in May 94 starting at Circus Maximus were Johnny Mathis, Julio Iglesias, Jerry Seinfelds and Singer and songwriter Dionne Warwick with Burt Bacharach. At the Four Queens Hotel were THE PLATTERS and THE INK SPORTS. At The Hilton Starlight Express was still thundering away after all these years while the MGM Grand Hotel hand Manhattan Transfer, The Righteous Brothers and Tom Jones. Neil Sedaka was still packing them in down the road at Sahara Hotel. For US$42 you could see a circus act to end all shows Mystere at The Treasure Island Theatre. Always plenty to see and do in Vegas for everybody!.
After Holiday's were the next tour of 1972 to prepare for which included a much published New York appearances. Argubly Elvis was 'up' for the importance of the 'event' and his June 1972 is certainly the best tour in every way in 1972. Elvis first appeared publicly at the 4pm Press conference at The Madison Square Garden on June 9th. The press conference although planned and short was very interesting. The most revealing question and answer from Elvis being:
Question: Are you satisfied with the image you've established?
Answer: well, Sir. The image is one thing and the human being is another. Itīs very hard to live up to an image. Iīll put it that way.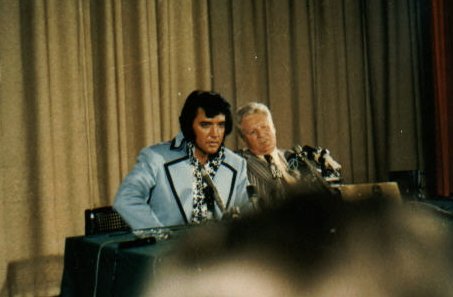 Press Conference, June 9, 1972, New York, NY. (Picture from
Paul's Elvis Page
)
Of all of Elvisīs very few 70's interviews this one and this statement are the most revealing and I think that although Elvis tried as hard as he could to live up to his 'image' at the end he found himself in crippling dilemma as to the bridge between Elvis The Man and His Music. Living up to his image proved to be a great 'burden'. More than ever it seems nowadays you have to be a bit hard hearted to survive whereas with Elvis he wastoo kind hearted and too delicate to survive the media. Althrough many non-fans criticize Elvis's scarves as 'gimmick' material, I think that really it was just a reflection of his goodwill to others and his generous natire. When people heavily criticize Elvis's lifestyle and early death, one MUST remember that we are talking about the 1970's NOT the 1990's which are totally different and do not bare comparism. One should remember Elvis's philosophy on life was to always think of OTHERS FIRST and to try and help other people where he could.
Following the press conference in which Elvis looked fantastic and charmed the New Yorkers he prepared for that evening's show before 20,000 fans (the first of 4 sold outs performances at the Madison Square Garden) Backstage Elvis paced nervously and nearly refused to perform because the noisy crowd were rude to comedian friend Jackie Kahane with his 'usual' material. However after a nervous start to his evening 9.6.72 now Elvis proved to his New York audience that he was indeed īLike A Prince from another Planetī. In his first show he really won over the crowds with his tremendous version of BRIDGE TROUBLED WATER highlight of the first show in New York. The next show featured very unusual repertoirechoices as at the 10.6.72 A/S, Elvis sang concert rarities. RECONSIDER BABY and I'LL REMEMBER YOU. Also rare on tour were THE IMPOSSIBLE DREAM sung noisily and inadvertantly at the 10.6.72 E/S. Following this performance RCAsrated working for a quick release of the 10.6.72 E/S - chosen as it contains great atmosphere of the excitement of Madison Square Garden. Nlike CDS back then to fit onto a single album a great deal of editing was needed. Therefore working with these running time constraints BLUE SUEDE SHOES and UNTIL ITīS TIME FOR YOU TO GO were edited out. (Pity they didn't get edited back in for the remastered D released to have TODAY!)
In 1972 RCA did a fantastic achievement of producing an album on the street in under 3 days from starting work which is a great achievement. Later on we got again some of the highlights of the 10.6.72 E/S released on the 1977 release Wellcome TO My World namely the great versino of 'I CANīT STOP LOVING YOU' and FOR THE GOOD TIMES. Later in 1983 we got 2 highlights from the 10.6.72 A/S released on A Legendary Performer Vol 4: I'LL REMMBER YOU and the excellent version of RECONSIDER BABY also known by RCA as 'A Blues Jam'. With the Alternate Aloha released surely NOW is the timing for the Alternate Madison Square Garden show as the Afternoon show is quite different to the E/S on 10th June. The afternoon show shows Elvis concentrating on his singing more where as at the Evening show Elvis appears to be concentrating more on his stage antics for an audience expecting a wild Saturday evening show with lots of Karate etc during POLK SALAD ANNIE and faster songs well, they got it they really DID get a DYNAMITE show from Elvis as amateur footage shows Elvis was very physical during his shows!. Last, but certainly not to be forgotten was the final New York 11.6.72 show on Sunday afternoon where for his matinee show Elvis again included I'LL REMEMBER YOU. Without a time to bathe in the New Yourk successes Elvis went straight to onto fort Wayne to his next performance on 12th June - where for my money the show seems better even than in New York!. Although it was real hot in fort Wayne, Indiana Elvis is simply BRILLANT from start to finish including 1 line of CARRY ME BACK TO OLD VIRGINIA, ITīS NOW OR NEVER (funny version), RECONSIDER BABY and FOR THE GOOD TIMES (funny version). It wasn't just the heat in Fort Wayne, Elvis' dynamic performance was knocking them out. Without doubt Elvis physical presence in june 1972 was superb - he was in excellent physical shape and at the very height of his powers.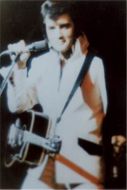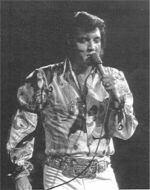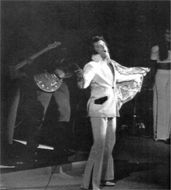 Chicago, IL. June 17, 1972 (2:30 pm)
Elvis continued on in Evansville on 13th June rocking them with BLUE SUEDE SHOES, then BRIDGE OVER TROUBLED WATER and I CAN'T STOP LOVING YOU in Milwaukee on 14th. Wooing them with YOU'VE LOST THAT LOVING FEELING and I'LL REMEMBER YOU again in Milwaukee on 15th. Chicago were treated to another rockin' show from Elvis on 16th June featuring a no-gimmicks version of YOU'VE LOST THAT LOVING FEELING. Saturday afternoon in chicago continued with THE IMPOSSIBLE DREAM and MY BABE and an unverified version of a I REALLY DON'T WANT TO KNOW. Fort Worth on 18th for ONE NIGHT only, then one show in Wichita on 19th June (excellent footage on Return to Explendour video) Elvis closed his tour 24 hours later in tulsa with a reported singing of IN THE GHETTO. Mr. Joseph A. Tunzi must be congratulated for bringing us the superb boo featuring photos from this tour, mainly in chicago but worth special mentino are the great shots of Elvis departing from the Fairmont Mayo Hotel in tulsa which are such a delight to see. New York photos are good too, but seem more grainy (one must to remember that powerful lenses back in 72 were much more awkward to use than the state of the art of photography today!) You were outside the Fairnmont Mayo Hotel at 3'56" pm? Too bad Elvis left at 3'55".
Track listing for Elvis 18.6.72 Fort Worth, Texas show:
That's All Right / I Got A Woman - Amen / Love Me Tender / You Don't Have To Say You Love Me / You've Lost That Lovin' Feelin' / Polk Salad Annie / Love Me / All Shook Up / Heartbreak Hotel / Teddy Bear - Don't Be Cruel / One Night / It's Now Or Never / Hound Dog / Suspicious Minds / Introductions / My Babe / I Can't Stop Loving You / For The Good Times / How Great Thou Art / A Big Hunk Of Love / An American Trilogy / Funny How Time Slips Away / Can't Help Falling In Love / RT: 65 minutes
The June repertoire changed to include THAT'S ALL RIGHT MAMA for opening the shows again (for the benefit of the New Yorkers) YOU DON'T HAVE TO SAY YOU LOVE ME and YOU'VE LOST THAT LOVING FEELING in this tour were regularly performed and after early inclusions of RECONSIDER BABY and I'LL REMEMBER YOU later in the tour Elvis was singing MY BABE and IT'S NOW OR NEVER. THE IMPOSSIBLE DREAM was sung at least twice , also LITTLE SISTER / GET BACK medley in Chicago 16th and reportedly on this tour also THE WONDER OF YOU. New suits were worn on this tour such as the light blue jumpsuit with gold studs and the famous white jumpsuit with square buttons as at the 10.6.72 E/S. Also again as at the 8.11.71 show in Philadelphia the WHITE SPECTRUM suit and more familiarly (as it was often worn in later summer 72 Vegas show) The WHITE SHOOTING STAR suit design also often referred to as the WHITE FIREWORKS suit - much confusion as to what 'white' jumpsuit was worn when shows listings just list white jumpsuit - very confusing!!!.
Very new on tour were the WHITE COAT and SLACKS, PAISLEY SHIRT comibinatio as seen first at the Chicago Saturday afternoon show on 17th June. Recently photos have appeared in several publications of Elvis at the Henry Levitt Arena in Wichita, Kansas. These photos show Elvis in his stunning combination of white slacks and coat with the light blue / white fishbone patterned shirt and he looks stunning. Many publications list Elvis's attaire as the PAISLEY SHIRT. Indeed thi sis what's shown on Return to Splendour and the highly respected Stein Erik Skar īConcert Years', this being the case I'm sure I'm among many other fans around the world who wonders what Elvis was REALLY wearing in Wichita. Are mr. Ed Bonja's photos correctly dated? Fashion fans please write . Where are you Scott Jenkins? Certainly the footage of Elvis in his WHITE coat and SLACKS with PAISLEY shirt is stunnin. A fair amount from the weekend to remember at Madison Square Garden is circulating and although only fair shows just how great Elvis is in his at Madison Square Garden shows. Finally in June 72 came an offer from an Austrlian promoter for one appearance in Melbourne and two in Sydney for $900,000.