Menu
Concerts
Reviews
Multimedia
Legal Information
Songs and Tours Reviewed
Feelings About 1977
by Geoffrey Mc Donnell-Australia.
For Elvis, 1977 started in a similar way to 1976, but with a really good exciting New Years Eve Show, with none of the problems of the 75/76 Concert. As Elvis Presley put down the phone having taken a call from President Jimmy Carter, he was well pleased-and Elvis had a right to be. He'd just put on one of his best ever shows (indeed whole tour) and things looked much better for 1977, than at the start of 1976. By all accounts, on Elvis's 42nd birthday things were still looking 'good' as he enjoyed a couple of weeks at his Palm Springs home relaxing with friends. Ginger Alden was with him and Elvis was talking about getting married in September!
Unfortunately after such a great start to the year, by the 4th week of January back at Graceland seemed to be the point from which problems started to bury Elvis like an Avalanche until he died. Rumours of a book about him were circulating (written by the ex-bodyguards) and Ginger & Elvis were having lovers tiffs. Just as Elvis started moaning about Colonel Parkers gambling losses in Las Vegas, Col. Parker had scheduled a recording session for Elvis in a 'new' studio in Nashville. Along with further attempts at Graceland, recording sessions were cancelled by Elvis. Strange as in the same breath Elvis was questioning why he wasn't out on tour yet amongst his fans. Elvis had cancelled recording sessions in the past (usually for health reasons) Elvis was in no-mood for recording now, maybe later-but when?.
Ironically so keen was Elvis to get back out on tour, when he did in his first show he attempted 27 songs, then later on in St Petersburg, told the audience how sorry he was not to have got back on tour earlier, but the country had been snowed in and so on. Certainly for the first tour of 1977, Elvis does come across as being very happy to be amongst his fans again, Elvis REALLY DID CARE for his fans. Elvis's first tour started in Hollywood on 12th February (tries hard but overweight and his voice isn't good on songs like 'Unchained Melody'), then West Palm Beach on 13th (where he still isn't in best form yet-mediocre show) St Petersburg on 14th (better show), Orlando on 15th (excellent show!) Montgomery on 16th (good show) Savannah on 17th (good show) Columbia on 18th (good show) Johnson city on 19th (fair show), Charlotte on 20th (good show) and a final appearance on 21st in Charlotte again (reasonable show) Taken as a whole I think you'll find that this tour is MUCH better than the first tour of 1976 tour, certainly better than Las Vegas 1976. Not only did Elvis eventually deliver his 'latest record' during the final tour show, but also a good mixture of songs both old + new, plus as in the best tours 'rare live gems' performed in excellent voice. Repertoire for the tour was based on the complete December 1976 song choices as his track listing for the show in Hollywood reveals:
2001 Theme - C.C.Rider - I Got A Woman / Amen - Love Me - If You Love Me - You Gave Me A Mountain - Jailhouse Rock - O Sole Mio / It's Now Or Never - All Shook Up - Teddy Bear / Don't Be Cruel - My Boy* - My Way - Little Sister - Help Me - Polk Salad Annie - Intros - Eearly Morning Rain - Johnny B. Goode - Group Solos - Love Letters - Hail, Hail Rock N'Roll - Hurt - Hound Dog - Funny How Time Slips Away - Wooden Heart** - Unchained Melody - Can't Help Falling In Love - Closing Vamp.
(Boot released -"Hot time in Miami")
Running Time 70 minutes
* indicates one line only,
** indicates 2 lines only.
Suits worn on this tour were of course the Mexican Sundial Suit(for the first time since Oct 74! in Savannah + Charlotte-first show) Then in West Palm Beach, St Petersburg and Montgomery (all partially 'Boot' released shows) the 'Rainfall Suit', then in Johnson City the King of Spades Suit. Both in Hollywood, Columbia & Charlotte (for the last tour show) Elvis wore the Beautiful Indian Feather Suit. If You Love Me(Let Me Know) was featured interchangeable with 'Fairytale'(which Elvis would introduce as the story of his life.) The tour started with 'All Shook Up' being sung before Teddy Bear / Don't be Cruel medley, changing after Orlando to 'Little Sister' as the usual song for the rest of 77'.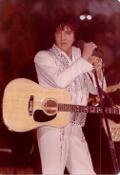 Unchained Melody was still performed often, but not now every night and very interesting is the spoken first line to Hound Dog in St. Petersburg!. Polk Salad Annie was performed in much the same style as during the 1976'77 New Years Eve Show (with more vocalizing at the expense of movement.) Of great interest here is the performance of 'Release Me' which tends to take the place of Polk Salad Annie in shows, as here it ties in well with the forthcoming March release of "Welcome to my World" album. The very rare performance of 'Where No-One Stands Alone" in Montgomery on 16th Feb is a real GEM and very moving, sung straight from the heart.(check out the bootleg Moody Blue & other great performances) Incidentally the Bo Didley theme on Ron Tutt's Drums - the Taking Care Of Business (T.C.B. BAND theme) IS FIRST PERFORMED ON THIS TOUR BY Ron Tutt after the Montgomery show, starting in Johnson City and for the rest of 77'.
A 'fair' performance of 'Moody Blue' during the closing tour show in Charlotte is fantastic (after a false start only the night before), however 'Moody Blue' seems to be getting the same treatment as 'Burning Love' in 1972 - where this song was ultra 'rare' after April 72 for 7 months until Nov 72'. Would 'Moody Blue' be performed on October??. This of course meant that Elvis was FORCED to introduce 'HURT' as 'one of my latest records'. At the end of the tour, both in Savannah + Charlotte, Elvis started playing guitar again featuring 'Reconsider Baby'.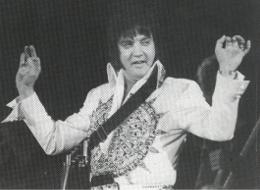 As again in late 76' songs from Back-up singers-Usually Sherril Neilson or more correctly should I say Shaun Neilson, were included in the 1977 tours where Elvis deemed them. Elvis was clearly in AWE of Sherrils voice as he would often mutter during 'O Sole Mio' but in some 1977 shows (such as Kalamazoo 77') one wonders if Elvis didn't feature Shaun too much?. Certainly it gave Elvis a 'break' during the shows and possibly added to it. I mean how many times do we hear Shaun singing in 1977 saying "by Special Request" well that's as maybe but STILL makes us fans cringe!. As well as Shaun featuring in Elvis's recordings. I've heard Shaun sing the following songs on stage: O Sole Mio, Danny Boy / Walk With Me, Funny How Time Slips Away, The Hawaiian Wedding Song, Killing Me Softly & Bringing it Back. Dueting with Elvis we find: Spanish Eyes, Softly, Aubrey, Help Me, My Way, If You Love Me and part of And I Love You So, Unchained Melody and Can't Help Falling in Love. I'm sure there are more examples out there as indeed on "Songs I Sang for Elvis " Shaun managed to put together an Album tributing some 20 songs that Elvis liked him to sing for him. On average at most of Elvis's 1977 show Elvis would perform 20 songs with rarely more than 1 song either side of this number.
"After a 'mediocre' show on 12th February featuring one of the poorest versions of 'Unchained Melody' out of the 17 times, I'm aware that Elvis performed the song, and the real 'tease' of 1 line only of 'My Boy'. Elvis didn't get into good form until really the show on 14th February in St Petersburg, the West Pam Beach 13.2.77 show (boot released on "Coming on Strong") shows us Elvis not in the best of form yet. However St. Petersburg finds onwards Elvis is in strong, Rich Voice and a 'good' Valentines show. In some video footage from this first tour Elvis obviously TRIES hard during his first 77' appearance in Miami, but his legs are fat and he's out of condition with some kind of water retention 'bloat?', however in his 'Rainfall' suit on 14th Elvis sings great(is loosing weight) and jokes well with Tony Brown getting him to do 'Blueberry Hill' on Piano before quipping 'You're a good Piano player Son but your Warped' this is how to do it' then Elvis plays/sings a great impromptu version of Blueberry Hill'(one of the REAL highlights from this tour!). During MY WAY only one quick glance at the lyric sheet is needed from Elvis NOT complete reliance as we have been led to believe in 1977. Why had the press only just picked up on this - as early as 1969 Elvis would request the words to songs or not quite finish them - haven't they seen That's the way it is and Elvis read words to POLK SALAD ANNIE 'on stage'??
Especially noticeable in ALL 1977 shows is the extreme care Elvis takes in his delivery of the song 'You Gave Me a Mountain' as each syllable in each word is perfectly phrased. Ginger Alden accompanied Elvis on this tour and they seemed to be getting on quite well?. In Orlando Elvis got even better as he repeated the endings to songs in knockout voice. This tour is a great one to listen too as Elvis seems to be improving with each show ! Montgomery was very moving, Savannah stupendous and in Columbia on 18th he sang 'Are You Lonesome Tonight' perfectly and 'Release me'. Elvis's next 2 shows are leading up to the tour closing in Charlotte on 21st February. Whilst Elvis sang VERY WELL at the show on 20th in Charlotte (and even looked to have lost weight in his Mexican Sundial suit) he did a false start ONLY of 'Moody Blue' and dismissed it too easily. The final night again in Charlotte on 21st (boot release "Moody Blue & other great performances(for the LAST time in his Indian Feather Jumpsuit) Elvis starts very poorly sounding 'foggy' and having to ask Estelle (of the Sweet Inspirations) to be fed the words to 'Are You Lonesome Tonight' (after forgetting the line: 'does your memory stray?') this is a VERY embarrassing moment and although the show picks up after this, after an average version of 'Reconsider Baby' Elvis starts 'That's Alright' before complaining that his guitar is not tuned and gives up on the song after a false start. During the intros, he gets his girlfriends sister to play the piano (Miss Tennessee 1976).The most pernicious of the Elvis biographers got his pictures from the start of tour 12.2.77 show and he doesn't look 'good'. Thankfully after this tour Elvis DID take a holiday in Hawaii. Charlotte 21st Feb show ends poorly as well (with Elvis changing key's during 'WHY ME LORD' ) and seems a very mixed quality show reminding one of the later mixed Rapid City show on 21st June 1977.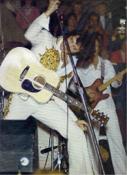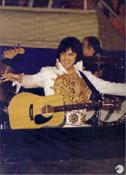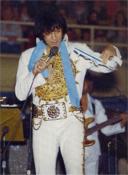 February 20, 1977. Charlotte, NC.
After a little Hawaiian sun in March unfortunately there is NO Hawaiian fragrance to his March 1977 tour as we have to wait until April 24th for a 1 line of 'Blue Hawaii' and April 25th for 'The Hawaiian Wedding Song.' It's REAL pity he didn't bother to rehearse up 'Blue Hawaii' FOR HIS TOURS
Despite the vacation, one wonders if by 1977 Elvis even knew how to take a holiday as in times he seemed in danger of becoming a bookworm!. Yet at other times he seems driven and restless. Back on tour although Elvis sang stirring versions of 'HOW GREAT THOU ART' several times during this tour as well as MY WAY he seems pale, tired and drawn. However his voice usually remains magnificent,strong and more resonant than before. The opening tour show in Tempe WAS a 'good' show, then on to Amarillo on 24th:
March 24, 1977. (8.30 pm) Amarillo, TX. Civic Center.
Also Sprach Zarathustra - See See Rider - I Got A Woman/Amen - Love Me - If You Love Me - You Gave Me A Mountain - Jailhouse Rock - O Sole Mio/It's Now Or Never - Little Sister - Teddy Bear/Don't Be Cruel - And I Love You So - Fever-Blue Suede Shoes- intro: Early Morning Rain - What'd I Say- Johnny B. Goode - School Days -Love me Tender- Hurt - Hound Dog - Can't Help Falling In Love - Closing Vamp
R/T 60 minutes
After the excitement of 2001 Theme Elvis comes out on stage like some strong Roman Gladiator out to fight with some beast!. Elvis seems so operatically great in 1977. This tour, after the last south eastern tour, was a swing through Elvis's heartland - the mid-south. Suits alternated between 'The Mexican Sundial' + 'The King of Spades'. Starting with the Sundial suit in Tempe on 23rd March 77'. Changes most memorable were the replacement of Polk Salad Annie with 'Fever' and dropping 'Love Letters' from his shows (because David Briggs had been replaced) by 'Bobby' Ogden, who was VERY impressed with Elvis's version of 'How Great Thou Art' in Tempe, and remarkably NEVER met with Elvis except 'On Stage'. Elvis was favoring 'How Great Thou Art' for this tour instead of 'Unchained Melody' Elvis also featured guitar playing in half of his shows. The only really 'rare' songs on this tour are another performance of the Gospel medley 'Rock my Soul / You'd Better Run' from Alexandria on 29th May, these 2 songs 'boot' released on SOUNDBOARD are ok, but not quite as good as the 'high' Uniondale 19.7.75 A/S performance. Also now and indeed for the next 3 tours, Elvis did shows WITHOUT any of his 'latest records' performed in them, very different from the past. There were signs of the underlying health problems for Elvis, as in Norman on 26th he said he'd make up for being late for the show only to end the show very quickly with the now identified Quick Close Syndrome (Q.C.S.): "Hurt", "Hound Dog", "Can't Help Falling in Love". In Austin, Texas, despite a good show and a VERY enthusiastic audience this show ended the SAME way Elvis didn't have Ginger with him on THIS tour and he didn't seem to be coping without female company very well at all.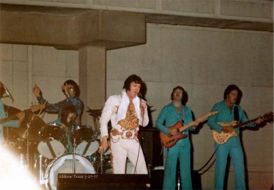 One of the BEST shows I feel for this tour was Abilene on 27th (Boot released as "King time in Abilene) yet because of his poor appearance 3 years before there were still unsold seats available on the night of this show at least Elvis's voice was 'good' in Abilene and the show 10 minutes longer than the 60 minute average for this tour. However whilst singing 'Lawdy miss Clawdy' at the end of the show is ok. It isn't as captivating as 'Unchained Melody'. After a so-so show on 30th March in Alexandria (typified by the 'bootleg' release titled 'By Special Request') Elvis cancelled his show in Baton Rouge on 31st March, at the last moment to a seated audience. Tragically although Elvis had only cancelled about 9 times in as many years, to cancel 'on the road' is much more 'Dramatic' than Las Vegas. News of this, spread and came as a shock to everyone. However listening to Elvis singing 'You Gave Me A Mountain' on 30th March, what makes Elvis an unequalled performer? The answer - he kept his political views to himself, he was Honest with his audience and didn't abuse his position with heavy speeches or messages from the stage (unlike so many top name entertainers today) Elvis Presley will NEVER be equaled because, if you listen to his 1977 shows, you'll find Elvis was unique in having 'Pure Stage Power. Indeed 'highlights' from the So-So Alexandria show on 30th were VERY good versions of 'Fever', 'Early Morning Rain' (complete) and 'Love me Tender'. Most people including top name entertainers touring today, when faced with ill health take, sometimes, years off to properly get well and take stock of their priorities in life, clearly the fact that from April onwards, Elvis was in a pattern of 2 weeks 'ON', then 2 weeks 'OFF' touring shows that somewhere along the way, for reasons only Elvis truly knew he made the decision to keep touring until he dropped. Elvis seemed caught in a " catch 22 " situation under fire from the press if he kept touring or, if he did not.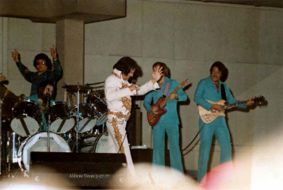 Elvis by now had a serious health problem and the sadness is that irrespective of it's causes, he didn't stop touring and get himself well instead of carrying on like a runaway train. It meant that, for a short while, Elvis gave US THE FANS MORE but ultimately at his expense and for others around him to gain.
Although Elvis was a major employer, he was treating himself like a hard working employee, going out to work for his hundreds of people that indirectly/directly depended on him for financial support. Surely Elvis was long overdue for long service leave? However driven Elvis was, the Colonel cannot be blamed here as even he scheduled a lengthy 7 weeks "OFF" to give Elvis more rest after the June tour.
In early April, after a very brief stay in hospital, Elvis left and bumped into Pricilla back at Graceland before any extensive tests could be made, was he scared that this time they might force him away from his greatest love, entertaining his fans? I find reliable reports at this time, that Elvis was putting away several quarts of water a day and needing Ice Cream on tour to soothe a dry throat and yeast infections of all the unsuitable foods ALARMING/SCARY, this confirms, using one of Elvis's genuine ailments,an example of his Diabetes poor control- what else was wrong?. Although Elvis had a 24 hour a day Doctor and diet sheets, clearly he didn't understand his illnesses, was reckless in his use of medicine and didn't take his close friends advice - NOT helping himself. How much of the last couple of years and how many shows were adversely affected by confusion through pain? In his lifestyle Elvis goofed upsinging every night wasn't overwork at all, indeed it was good for him, sure he needed the money for his commitements, but even if he didn't he eventually would have found some way to sing, it was in his blood to do so!. Elvis took Ginger back with him on this April tour (after seeing Bank Teller Alica in mid-April at Palm Springs) and stepped out on stage on 21st April determined to do good shows,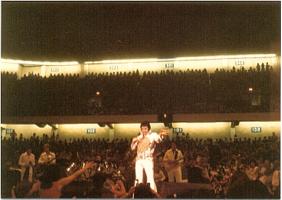 although the audience felt he tired easily in Greensboro on 21st April 1977 it was a pretty ok show. Next night in Detroit on 22nd many thought the show wasn't good but I quite like it. Toledo on 23rd shows an improvement in effort in songs from Elvis (boot released) whilst by 24th critics/fans alike reckon this was one of the BEST shows from this tour. (ALSO 'Boot' released) Generally speaking (compared to the March tour) Elvis relied less on his back-up singers and carried the shows himself - energetic songs such as POLK SALAD ANNIE are back in and so is TRYING TO GET TO YOU also in many shows. The 1st Saginaw show on 25th is less good than the show the day before (boot release"Greetings from Saginaw") and quite unfortunately either through boredom or an inability to 'focus' the show given in Kalamazoo features far too much contribution from the back-up singers whilst Elvis just watched on stage.
26.04.1977 Tuesday (8:30 P.M.) Kalamazoo, Michigan, Wings Stadium.
Also Sprach Zarathustra - C. C. Rider - I Got A Woman/Amen (J. D. Sumner's deep bass 2x)/I Got A Woman (medley) - Love Me - Fairytale (excerpt) - If You Love Me (Let Me Know) - You Gave Me A Mountain ("Lord you know you did") - Jailhouse Rock (verses 1, 2) - O Sole Mio (by Sherrill Nielsen, "Smart, Alec")/It's Now Or Never (medley) - Big Boss Man - Heartbreak Hotel - Blue Suede Shoes - And I Love You So (with false start) - "I don't know the words to it so I have to read it" - My Way - Band Introductions - Early Morning' Rain (verses 1, first half of 2, second half of 4) - What'd I Say - (*Johnny B. Goode) - Drums Solo "2" (Ronnie Tutt) - Bass Solo (Battle Of New Orleans - Jerry Scheff) - Piano Solo (Tony Brown) - Electric Piano Solo (Bobby Ogdin) - Introduction of Charlie Hodge, Joe Guercio & Joe Guercio Orchestra - School Day (Hail Hail Rock'n'Roll) - My Heavenly Father Watches Over Me (by Kathy Westmoreland) - Danny Boy (by Sherrill Nielsen) - Walk With Me (by Sherrill Nielsen) - Hound Dog - Can't Help Falling In Love - Closing Vamp & Announcements.
R/T: 75 minutes.
* unclear as to whether this was in this show or not?
Elvis performed a pretty 'good' first week 'on tour'(apart from a so-so show in Kalamazoo, where after the intros Elvis's ONLY contribution to the show was a 'mediocre' version of HOUND DOG before closing with the usual C.H.F.I.L., as back-up singers performing 'My Heavenly Father', 'Danny Boy/Walk with Me' instead) you might think that the VERY incomplete bootleg "Memories from Kalamazoo" is short but it still contains 60% of Elvis's VOCAL contribution to the whole show!. However AFTER this 1ast week, he twisted his ankle AFTER the Milwaukee show on 27th and was 'static' on stage in Green Bay (which the press picked up). In Duluth on 29th though he puts on a 'good' show with a better performed version of 'BIG BOSS MAN' than he had done 3 days ago in Kalamazoo, also Bridge and My Way are good here too. ( boot - "a day in Duluth") In St Paul on 30th, Elvis featured a very unusual line up of songs.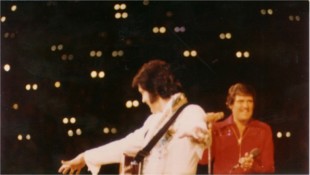 Unfortunatly by Chicago on 1st May Elvis's performance is very ordinary again and whilst Elvis in the book published about this show may look smart, I find myself completely agreeing with Lyn Van Matre of the Chicago Tribune, in her May 2nd article she concluded that on May 1st Elvis Presley doesn't put on that great a show. However at this time the Sweet Inspirations singing of 'If you leave me now"- by the group Chicago, could hardly set the atmosphere for his last shows any better.
Elvis was 'Good' and a lot of fun in Chicago in 1976, what was he doing returning so soon? Elvis was expected to be perfect 'on stage' and CBS were in Chicago too watching his performance-getting an idea of what to expect in June. Although the QUALITY of Elvis's 2nd week of touring shows DO suffer for 100%, certain his show on 2nd May in Chicago was a SIGNIFICANTLY better performance - giving hope and reassurance to his entourage around him. Elvis doesn't exactly seem to be trying too hard on May 2nd but he DOES sing better, move energetically AND move well in POLK SALAD ANNIE as well as a back roll at the reprise end of HURT. Very soon in the 2nd show Elvis says "Don't believe rumors and I'm happy to be here "Most memorable from this show are his changing of microphones 5 times! And introducing John Wilkinson as the LATE John Wilkinson or asking James Burton to play J.B.Goode or else he'd break his finger (as for the nights 26th-29th May, James had been playing an instrumental of "Delta Lady" instead!) - it's a pity other artists aren't as generous to James in their intros nowadays. Yet at this time Elvis is FAR more honest with his audience than other singers would be when in Duluth, he explained that he had Larry Strickland cover up the low notes he missed and Sherril Neilson cover up the high ones. In Las Vegas on 14.12.75, Elvis admitted to making 3 mistakes in 1975 - was Chicago a mistake in 1977?. What a relief back in Saginaw for the closing tour show on May 3rd that Elvis chose a real unusual mixture of songs and also put on a much better show in richer voice than Chicago.
Following This April/May tour RCA armed with additional 'live' cuts from 24th + 25th April scraped together a 90% 'new' Album for June release. 'Moody Blue' is a surprisingly 'refreshing Album' - but only because of the strength of a few of the tracks showing that the old Elvis 'MAGIC' was still there. Adding to the six songs recorded in 1976 at Graceland came the Haunting 'Unchained Melody' (24.4.77), the fun and foot tapping 'IF YOU LOVE ME (LET ME KNOW) (25.4.77)' and the hilarious fun filled 'Little Darlin' (24.4.77) The 10th Song was the already released 'LET ME BE THERE' from 1974, chosen here because it matched the other Olivia Newton John song on the Album. The result Elvis now had a great new Album. Thankfully now, Elvis stopped the 'Sugary Gatorade' favoring just water.
After just a couple of short weeks at home, although very apprehensive and worried, Elvis like a true man rose to the occasion and started his next tour on 20th May 1977. This tour started with a fairly average show in Knoxville on 20th, but, did feature another similar version of 'HOW GREAT THOU ART' as the 19.6.77 version. Early on in this tour Elvis featured the song 'funny how time slips away' a lot and looking back it DID!.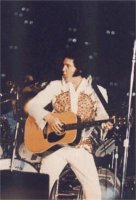 Louisville was the next city on 21st and found Elvis in excellent voice but his in-between song comments are very brief and he seems subdued and drawn. In Largo on 22nd Elvis seems 'Largo' in his performance but 'static' on stage (boot release "8.30pm TONIGHT"). Elvis closed with the now familiar word changes (as on 30.3.77 show) 'it's time, time to go' during Can't Help Falling in Love. The shows DO seem VERY ordinary, only around 1 hour in length and in no way matching the quality of Elvis's performances in Largo or Providence 11 months ago. Elvis sang MY WAY with great Providence in Providence on 23rd. However in Augusta on 24th, the old Elvis 'MAGIC' starts straight away, during C.C.RIDER Elvis moves to the beat. I've seen this show from both stage left in colour and opposite center in black & white and it's great show. Powerful versions of both MY WAY and HEARTBREAK HOTEL. Another 'good show in Rochester on 25th (BOOT RELEASE "The Jailhouse Rock man in Concert") - moving well during 'TRYING TO GET TO YOU', 'YOU GAVE ME A MOUNTAIN' and good version of POLK SALAD ANNIE on 26th in Binghamton as well as a really 'Shakin' end to HOUND DOG. The boot CD 'Unchained Elvis ' is to be recommended because it contains the Binghamton show on 26th plus highlights from his show the next night on 27th best being UNCHAINED MELODY. Elvis put out well in Binghamton as he draws on his religious belief's and inner reserves giving(as usual) ALL he can to us fans. Whether Elvis twists a thumb during 'I got a Woman' or adjusts his guitar, shakes his hips during 'Blue Suede Shoes' he makes the stage his own with his distinctive style and that wonderful reassuring smile.
However as we know now, behind the scenes, already all was NOT well, as Ginger Alden was sent home (how could a 20 year old cope understand Elvis's world?) Whilst Ginger was away, for the next 4 days until May 30th, Kathy Westmoreland stayed with Elvis to keep him company - who else was around who cared? As Linda Thompson's 24 hour a day was gone. Did Colonel Parker?. Elvis had rarely used his name during his performance of 'funny how time slips away' in Green Bay on April 28th and Elvis seemed keen to make changes in personnel but seemed to lack the confidence to do it. For instance the hotel the Colonel put Elvis in in Cincinnati in June was so crummy the Air Conditioning didn't work properly. Elvis a perfectionist both 'on' and 'off' stage walked out Saturday afternoon until he found another satisfactory room. Now Kathy was with Elvis, the bodyguards must have been delighted as now they could go off and get drunk! Elvis was now entirely Kathy Westmoreland's responsibility.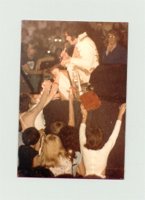 Elvis next performed in Philadelphia on 28th May (boot release "Philadelphia 77") and here, as can be seen in film of the show, is where Elvis in public started showing how unwell he REALLY was. Soon in the show Elvis, as usual apologizes for being late-his excuses now seem remarkable, whether it was visiting a Dentist in Charlotte, lost in a parking lot in Philadelphia or watching star trek in Lincoln! Being overweight was the least of his problems but his sudden curtailing of movement during 'Polk Salad Annie' is just TRAGIC to see, and he finishes the song wincing in pain and in a VERY disappointing manner (NO-MORE low bending moves) -no wonder Bruce Springstein wasn't impressed. Elvis later on sounds badly out of breath after 'Hurt' in which he seemed to have loose control over his vocal. He just about manages to ask J.D.Sumner to sing 'Walk that Lonesome Road' before resting. Ironically during parts of this show, vocally, Elvis tries to make up for it as he emphasizes EVERY LAST NOTE of songs. He even finds time to joke during a powerful version of 'My Way' by changing the lines to 'I eat it all' instead of 'I faced it all'- introducing the song Elvis says he can't remember the words to the song so he'll 'fake it'. Elvis never lost his sense of humour. Everywhere though, between the smiles he looks tired. In Baltimore on 29th May (boot "Send me the light, I need it bad"), Elvis was in real trouble as he had to actually leave the stage for 30 minutes handing over to Charlie Hodge to fill in time with the back-up singers songs and intros. Elvis obviously had problems relating to stomach pain here. Earlier on in the show Elvis even had Sherril Neilson sing a couple of songs MUCH earlier than usual. By the end of 'Hail, Hail Rock n''Roll' Elvis had returned looking ready to finish the show. He then continued with versions of 'Help Me', 'Unchained Melody' and moved to another shaking version of HOUND DOG putting himself through this nightly ordeal Elvis deserved an Olympic gold medal during his last 2 tours and although he had a choice and could have opted NOT to tour, there was hardly a day that he didn't give something away.
Track List for Jacksonville 30.5.77 show
2001 Theme / See See Rider / I Got A Woman - Amen / Love Me / Fairytale / You Gave Me A Mountain / Jailhouse Rock / O Sole Mio - It's Now Or Never / Trying To Get To You / Little Sister / Teddy Bear - Don't Be Cruel / And I Love You So My Way /intros : Early Morning Rain - What'd I Say - Johnny B. Goode / I Really Don't Want To Know / School Days / Hurt / Hound Dog / Dialogue/ Can't Help Falling In Love
JUMPSUITS Elvis Presley: Mexican Sundial suit with two buttons on sleeves / Original belt
ATTENDANCE: 10,300
Straight after the closing of the Baltimore show Elvis took a quick flight back to Memphis to bring back Ginger Alden on tour again, therefore with very little rest Elvis performed in Jacksonville on 30th May. The show is good and there were NO PROBLEMS. Somewhat surprisingly Elvis at this show for the first time since when in February he had performed a previously unheard 'live' performance of a song he'd just studio recorded(WHERE NO-ONE STANDS ALONE). Elvis after a false start sang "I REALLY DON'T WANT TO KNOW" which is a shortened version but an EXCELLENT addition to his intros (featuring different band members) and soon became a much loved performance amongst the fans. This song also fitted in VERY well with the March released compilation Album "Welcome to my World". On 31st May Elvis finally made up for his cancelled show in Baton Rouge but fans thought he didn't look very well at all-however POLK SALAD ANNIE was back in and quite lengthy versions too! Elvis was obviously not well again seen lying down in his car before and after this show. On June 1st Elvis sang in Macon but NONE of his latest records were performed as he developed a 'Frog' in his throat. It's with 'relief' that this long and grueling tour ended with a 'good' closing tour show in Mobile on 2nd June. Fans though THIS show was MUCH better than the 2 'poor quality' ones he gave on 29th August 1976 and with repertoire including POLK SALAD ANNIE, AN AMERICAN TRILOGY AND UNCHAINED MELODY he really put on a great show!.
Back at Graceland on 3rd June Elvis was relaxed and in a great mood following the tour. He played a joke with Larry Geller and Kathy Westmoreland giving his last cars away to them in appreciation of their efforts as friends on tour with him. Then just as everybody was having fun Charlie Hodge and Elvis got into a petty argument as Charlie reckoned HE really deserved the cars. Next a rare incident happened as Elvis punched Charlie out. Judging by the way people in Elvis's entourage often acted as 'free loaders' Elvis gave out what was needed here. Elvis obviously rarely lost his temper-as has been proven by the fact he never actually shot anyone-otherwise a fatal mistake would have occured. This incident goes to show how pathetic some people were around Elvis and when they had to do work-complained-yet they had it pretty easy most of time. Elvis spoke briefly with President Jimmy Carter on 4th June about his friend George Klein, but Elvis seemed unable to focus again.
For the 5th time this year and his 29th tour since returning to 'live' shows Elvis appeared on 17th June.Judging from his appearance Elvis was in slightly WORSE health for this tour and as nervous and apprehensive as ever.Throughout this tour, Elvis was trying extra hard in his concert appearences,however sadly on this tour, sometimes the harder Elvis tries the more 'stuffed' he looks.(i.e. during 'one night' sung in Madison on 24th June)Remarkably his voice seems rich & strong for the most part and only June 72' shows seem to satisfy as much overall as this June 77' tour.Elvis's voice does seem better than on the last tour.For this last tour their were some 'subtle' differences made by the backing band.Joe Guercio came up with a new Orchestral instrumental instead of Hail,Hail Rock N'Roll called 'Jazzing in Vegas', also used now during such songs as Early Morning Rain were synthesizers carefully played NOT over featured like in many bands. At the end of his 'instrumental piece' Bobby Ogden would finish with a short ending to 'Love Letters' hinting they he could play it like David Briggs used to. James Burton would still play J. B. Goode with the guitar up behind his head! (something he DOESN'T do in Concert nowadays)
June 22, 1977 (8:30 pm) Sioux Falls, SD. Sioux Falls Arena..
TRACKLIST
2001 Theme / See See Rider / I Got A Woman - Amen / Love Me / Fairytale / You Gave Me A Mountain / Jailhouse Rock / O Sole Mio - It's Now Or Never / Little Sister / Teddy Bear - Don't Be Cruel /and I love you So/My Way/.intro : Early Morning Rain - What'd I Say - Johnny B. Goode - I Really Don't Want To Know / Hurt / Hound Dog / Can't Help Falling In Love / closing vamp.
R/t 65 minutes.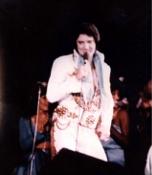 The tour started in Springfield on 17th June, Kansas City on 18th, Omaha on 19th, Lincoln on 20th, Rapid City on 21st, Sioux Falls on 22nd, Des Moines on 23rd, Madison on 24th, Cincinatti on 25th and finally Indianapolis on 26th June. Suits worn for this tour were just the Mexican Sundial Suit for 9 shows and only the King of Spades in Kansas City on 18th. Polk Salad Annie was NOT performed and guitar playing featured in several shows before strong ballads filled up the show later in the tour. Well I tell you what I wouldn't have minded being in Kansas City for his shows - as every time he appeared their he put on a 'good' show. Following on from his April 1976, 83 minute show in Kansas Elvis put on another 83 minute show on June 18th 77'. As the widely available part video shows in Kansas Elvis was in incredible voice BUT very ill. Almost unable to move as he enters the stage to find Charlie Hodge greeting him like he never expected to see him again! Eventually a very good show develops as he is both clear and funny-yet brilliant on guitar and recites an interesting version of'Are you Lonesome Tonight?'- although he misses the last 2 lines - this adds more weight to the line he does finish on during the spoken part. Elvis is cracking the audience up with his playing jokes with Charlie. The introductions are throughout this tour both funny and informative about the band members. After mind blowing versions of 'Hurt' and Early Morning Rain in which his voice had never sounded better, Elvis makes another similar little speech to the one in Chicago and Philadelphia where he tells his audience not to take any notice of what they hear or read as he is in good health and loves performing.
Elvis was before the CBS camera's as part of the CBS Television 'special' in Omaha on 19th. In Omaha although physically WORSE his voice was magnificent during 'How Great Thou Art' and the show whilst 'poor' in part isn't too badly received by the audience. However during 'Love Me' it looks like he might almost fall over. Lincoln the next night on 20th was a strong improvement - with Elvis Focused and singing VERY well, even making an 'in' joke that he used Charlie as a punching bag between tours - a CLEAR reference to the Graceland June 3rd incident., then for Rapid City on 21st he seems better again-slightly slimmer, more 'with it' and in good voice.Often during the 70's tours Elvis lost weight as the tour progressed.On 21st Elvis even found time to 'joke' with the bodyguards during the intros that he was going to call one of them on stage to sing ' THEY CALL THE WIND MARIAH 'from a Clint Eastwood/Lee Marvin film called "Paint Your Wagon", a song The Kingston Trio had a hit with in Oct 1957 (John Wilkinson was a member of the Trio in later years).
The bootleggers have eventually given us the Omaha show and MOST of the Rapid City show (with very interesting back stage footage) and it IS very interesting - interesting that he shrugs off a request for 'Moody Blue' in Rapid City!. Bootleggers have also given us decent CD's of the last 2 shows on 25th & 26th June and there is no-doubt they were well sung shows and for the visiting English Fans present at this time as well. It is unfortunate that in both Omaha AND Rapid City that Elvis badly messed up 'Are You Lonesome Tonight' again but it is funny in places and a 'raw' moment captured on film. What seems to come across so much during the T.V. Special is that Elvis seemed to be facing real pain/fear/loneliness in 1977 and was VERY nervous on stage-with all those 'awkward' pauses.Elvis cannot be faulted for trying as memorable highlights were: C.C. RIDER, MY WAY and his voice spot on for 'The Hawaiian Wedding Song.' After I purchased 'IN CONCERT' I was glad to hear the great rocking 77' version of 'Jailhouse Rock', the moving 'How Great Thou Art' and the tremendous 'bluesy' feeling created on Early Morning Rain. Kansas City would make a great Christmas Album. The next 3 shows from 22nd-24th feature more mediocre efforts with back-up singers doing songs and in Madison on 24th he comes out on stage like a Tiger but by 'Jailhouse Rock' only 1 thrusting arm movement is managed at the finish (highly predictable) and Elvis sounds just SO TIRED. Ron Tutt left after 23rd so 'Sweets' drummer Jerome 'Stump' Monroe played on 24th, before Larry Londin flew in to play the last 2 tour dates. This fact alone did seem to give extra impetus to Elvis at the end of this tour. Also NONE of his latest records are sung. On the way to the hotel after the show Elvis 'Policeman' stopped a fight at a petrol station. During the Madison show however - someone prophetically asked him to sing 'Old Shep'.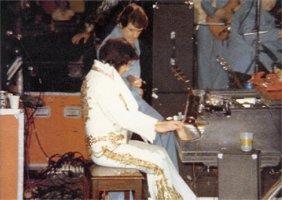 In Cincinnati (Boot released as "Since Cincinnati) highlights of the show (despite arriving late due to a trip to the dentists!) seem to be more great versions of 'Unchained Melody' and 'My Way', Brad Balfour summed up Elvis's appearance VERY WELL when he said that Elvis seems "Caged by his schedules, his bodyguards, his apparently deteriorating physical condition and old image" Balfour did admit, "He has a great voice, richly matured and ranging". Whilst in Indianapolis (Boot released AGAIN in 93' as "Adios") ALL the excitement was in/around the Market Square Arena on 26th June. For sure Larry's drumming helped Elvis and drove him on during these last 2 shows, at the Indy show Elvis introduced him as "about the size of London" - then after his very fast drum solo quipped "I'd better watch what I say, he's behind me!"- Elvis REALLY did seem to be enjoying himself. This was is BEST show in 3 visits to Indianapolis (and the BEST SHOW OF THIS TOUR!) and a fitting farewell concert by the KING of Rock. Although the end of July 75' tour had Elvis vocally MORE daring - in Indianapolis he reached for both the low notes and the high ones - his singing of 'It's Now Or Never' was just fine. Every song seems sung pretty well and also the audience seem REALLY glad to see him. Elvis arrived late (delayed by picking up his father and a presentation to Todd Slaughter at the Indianapolis Airport) Film of this meeting shows Elvis not looking too bad in his black sports jogging clothes, joking and smiling with Todd (whilst the Colonel interjects with him) The last show highlights would have to be 'Hurt', Bridge over Troubled Water and Elvis's joking good humor during I GOT A WOMAN/Amen (Joking that J.D's voice was lower than a whales shit!). Interestingly a repertoire change was made in Indianapolis to include 'I Can't Stop Loving You' for the first time in over 2 years! Elvis mentions the Album 'ON STAGE' just before 'Fairytale'(instead of before release me) but that's his only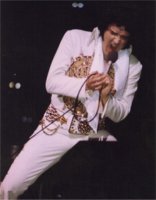 'mistake'. Hound Dog is pretty 'rushed' during Elvis's lengthy embellishments of the crew he mentions his sound engineer Bruce Jackson (from Australia), Cousin Patsy and almost everyone else! FINALLY he says: You've been a fantastic audience and it's really been made worthwhile, and if you want us back, just let us know.'
Back at Graceland after the tour, Elvis initially, loving English humor was watching 'Monty Python' movies before getting upset about the 'bodyguard' book, now published. However with his daughter in Early August he made a memorable trip to Libertyland, nearby for a night of fun on the rides.This helped take his mind off things and although the next tour was looking like 'mission impossible' Elvis was as usual making his plans for the tour scheduled to start up the Eastern seaboard in Portland, Maine on 17th August. Six 'new' song titles were chosen (with Dick Grob) and Charlie sent to get the lyric sheets. These songs were(according to Dick Grob) 'Hey Jude', Sweet Caroline', 'The Twelfth of Never', 'Walbash Cannonball' and 'The Fool'. Only hours before he'd sung 'Blue eyes Crying in the Rain'and 'Unchained Melody'at the Piano - wouldn't that have made a great spot in forthcoming shows?. Although Elvis had said his next tour would be his best ever- it was not to be. He was arguing with Ginger again about her coming on the tour and Elvis was considering taking 'Alica' again?. Some of the strangest footage I've seen is in the movie "THIS IS ELVIS" where Elvis & the Colonel are invited to pick up their FREE chicken & chips from Portland K.F.C.! Can you imagine them actually going in to pick them up?! Finally as the man himself said during his last show in Indianapolis on 26.6.77 "THAT'S ALL FOLKS"