Menu
Concerts
Reviews
Multimedia
Legal Information
Songs and Tours Reviewed
Elvis: The Long October 1974
by Geoffrey Mc Donnell, Australia.
September 27, 1974. (8.30 pm) Baltimore, Maryland. College Park Field House.
TRACKLIST
2001 Theme /See See Rider / I Got A Woman - Amen / Love Me / If You Love Me / It's Midnight / Big Boss Man / Fever / Love Me Tender / Hound Dog / Bridge Over Troubled Water / Polk Salad Annie / Introductions / Killing Me Softly (by Voice) / Why Me Lord / All shook up/ Teddy Bear/ Don't be Cruel / The Hawaiian Wedding Song / How Great Thou Art / Can't Help Falling In Love.
Running Time: 70 Minutes - Attendance: 15,000 - Jumpsuit: Peacock Suit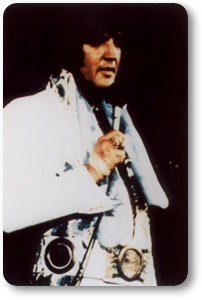 This show was seen by Len & Rosemarie Leech and reported in the Feb/March E.P.F.C magazine in March 1987. They found both shows very good, but could hardly hear Elvis's dialogue at the first show! Well as has been widely reported Tony Brown (who was playing Piano for VOICE on this tour) watched with horror as Elvis practically fell out of his car getting to College Park, Sonny West remembers Elvis as being so bad that he was just unable to function properly and Red West was shocked at just how much weight he had put on since Vegas.
Since around August 23rd Sheila Ryan had replaced Linda Thompson as Elvis's Girlfriend (for being on the road) and can be clearly seen in a striking matching Jumpsuit Backstage at College Park in Paul Lichters 1978 book The Boy who Dared to Rock. Meanwhile though Linda would be with Elvis in Memphis between Vegas and this next tour starting. Sheila would stay with Elvis on this Tour until 9.10.74 when Linda Thompson arrived with Vernon on this Tour.
When Elvis appeared on stage in front of 15,000 people, it didn' t get much better. He is wearing a bandage on his right hand which he says was due to a scratch he received in Las Vegas from a Fan which had got infected. Maybe this may help to explain some of his 102 degree temperatures his apparently was suffering before some October shows. In fact he wears this bandage all this Tour. However in photos I have seen from 12th October in Lake Tahoe he is no longer wearing this Bandage- so maybe his hand had healed up by then. Characteristic also for this tour was his wearing of Dark Glasses right until he took them off once on stage. After an extra long intro he finally comes on to Sing C.C. Rider which is terrible version and the stage sound seems bad as well. Straight after the first song we get heaps of Œslurry' difficult to understand Dialogue from Elvis from which all you can really make out is when he says Iv' e just got here, just woke up. The traditional Well, Well, Wells seem to go on forever before we get I GOT A WOMAN This sounds only fair before we get an extremely prolonged ending to AMEN - which of course Elvis gets J.D.Sumner to repeat saying He's the lowest Guy I know'. More really excessive talking, then at last LOVE ME which is again a poor version. One even wonders at this stage if Elvis has left the microphone stand yet as he is reported to be holding onto it for support!. With IF YOU LOVE ME an improvement is noted and also IT'S MIDNIGHT is an acceptable version. Elvis then says' you're a fantastic audience' before refusing to do requests like JAILHOUSE ROCK which sends him into BIG BOSS MAN sounding annoyed. After a pretty poor version we get the WORST performance so far as Elvis half talks through the start of FEVER giving 100% absolute total dis-regard For the song. Then totally without need we get more meaningless lengthy monologue all about his movie songs this time.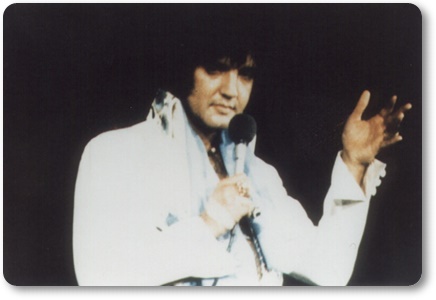 Then a Scarf turn Blue version of LOVE ME TENDER which is mediocre before more Dialogue leading into HOUND DOG where he is sounding both Alien and Hostile to fans. BRIDGE OVER TROUBLED WATER tonight sounds part religious, part unevenly sung and mostly false!.- it just isn't convincing here. POLK SALAD is poor and he still is sounding slurred during the introductions next. So meaningless are the intros we even get the Intro of Jackie Kahane! ,all of the stamps and my tape of the show ends after Kathy Westmoreland's intro.Well he didn' t perform all that much after the intros and yet largely because of all the talking the show seemed to go on forever lasting 70 minutes.
In the Washington post Judy Bachrach found Elvis a memory thrust forward and plain tuckered out after Bridge over troubled water and mixing up the verses in love me tender, Larry Rochter commented also in the Washington post that Bridge was Labored and an artist he is not after his performance. The 5 accompanying pictures taken by Larry Naltchayan all show Elvis looking bloated and stuffed even pooped holding his guitar and giving out scarves.
September 28, 1974. (8.30 pm) Baltimore, Maryland. College Park Field House.
TRACKLIST
2001 Theme / See See Rider / I Got A Woman - Amen / Love Me / If You Love Me / It's Midnight / Big Boss Man / Fever / Love Me Tender / Hound Dog / Introductions / Blue Christmas / All Shook Up / Teddy Bear - Don't Be Cruel / Trying' To Get To You / Killing Me Softly (by Voice) - When Its My Time (By The Stamps) / Heartbreak Hotel / Let Me Be There / How Great Thou Art / Hawaiian Wedding Song / Dialogue/ Blue Suede Shoes / Dialogue / Can't Help Falling In Love
Running Time: 80 minutes - Attendance: 15,000 - Jumpsuit: Blue Rainbow
N.B. released as a soundboard on FORT BAXTER A profile : The King on Stage Vol II Disc 2 On FTD release 'Dragonheart'.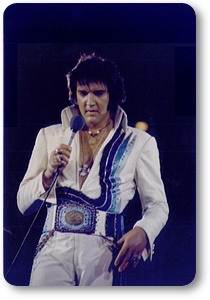 Straight away tonight it's obvious that he's in better form for this show as you can hear him talk and sing. However even before the end of I GOT A WOMAN when he suffers some feedback he immediately snarls saying 'watch the feedback Felton, or I'll take that Kidney away from you'. I have had some of my friends saying that I am misunderstanding this comment from Elvis when he is merely being Cool, Hip or just showing off on stage but after much thought I'm afraid I find this comment EXTREMELY disturbing coming from Elvis and surely Felton couldn't have enjoyed this at all.Fortunatly after this outburst we are rewarded with some well sung songs right up to the intros(quite early on) Elvis makes a big point about saying he'll be onstage for 80 minutes and that he isn't halfway through the show yet. Also Elvis is handed a fat little doll by a Girl (who gets rewarded with a Kiss and a scarf) this causes Elvis to remark about last nights show review in the local paper(which said he had a paunch) Elvis claims his paunch is a Bullet proof vest ,then slag's of the Guy who wrote the review!. After the introductions (where everyone gets a short solo-especially Glen D. Hardin playing a piano bit) Elvis does actually take a request performing BLUE CHRISTMAS ,then a few more songs before we hear VOICE perform their' Killing me Softly' and Elvis features Bill Baize and the stamps on an extended version of WHEN IT'S MY TIME. This song almost seems to be an answer to yesterdays newspaper review, where Elvis looked very hung over as if he' d consumed something like a bottle of Scotch before the last nights show?.
Tonight before singing HOW GREAT THOU ART Elvis says 'for this crowd I will sing my Can off' the sad thing is that the version he performs of HOW GREAT is actually inferior to the average version he recorded in Memphis on 20.3.74! Very early on at the first high part Elvis's voice cracks and he just isn't up to it sounding quite hoarse tonight. The song is well received by the audience but this is by no means a Great version. THE HAWAIIAN WEDDING SONG really was performed at EVERY show this tour and October(as far as I know) and I think this is because Elvis was being very nice and polite to Kathy here maybe looking to woo her back as a girlfriend until giving up on that in mid-75'. Elvis gives a somewhat brief (but very similar to Las Vegas 2.9.74 M/S) dialogue about Drugs,Booze,Karate and Movie Magazines tonight, then the biggest surprise comes with his closing song dialogue saying he has the most expensive show on the road because he wants to give YOU - THE FANS the BEST in this he actually sounds convincing and after all he DID keep ticket prices down to $10 so that the many students present could afford to come to the show. It's a Good show and plenty of added Drama built in for Elvis who seems to want to make sure Fans got their moneys worth tonight and for sure they REALLY DID! no review from the 28.9.74 show, but photos by Len Leech show Elvis looking pretty Good in his Blue Rainbow Suit. Pretty soon after they had moved onto Detroit Red West and Ed Parker became aware of a cocaine shipment coming in through one of the Singers Elvis had in his Group. According to Red Elvis had been introduced to this Drug a couple of months ago by this singer and relative by marriage. Red West went into this singers room and kicked in the door and broke his foot telling him that if he ever brought any more drugs around it would get a lot worse. Elvis heard about Reds Bully tactics and told him he didn't like it as he needed the coke It was here that his bodyguards realized Elvis had a serious problem- reportedly after the Tahoe engagement Elvis told Colonel Parker' I do Drugs' to which the Colonel says he never did anything about it because he NEVER interfered with Elvis's lifestyle.
September 29th, 1974 ( 2:30 pm) Detroit, Michigan Olympia Stadium
? tracklist 2001 Theme/See See Rider / I Got A Woman / Amen / Love Me / Blue Suede Shoes / It's Midnight / Big Boss Man / Fever / If You Love Me / Love me tender / Hound Dog / Intros-
Allright, Ok, You Win
/ All Shook Up / Teddy Bear - Don't Be Cruel / Killing Me Softly (by Voice) - When Its My Time (By The Stamps) / Why me Lord / Funny How Time Slips Away / Can't Help Falling In Love / Closing Vamp
Running Time: 45 minutes
On FTD release 'Dragonheart'.
Firstly I should say here that apart from in Las Vegas I have Never listened to a 30 minute Elvis Presley show on the road. YET in the recently published book DAY BY DAY we are told YET AGAIN that this Detroit 29.9.74 was only 30 minutes long and Elvis's POOREST on this tour. Are any of these so called facts true?!. I am guessing here that Elvis was 'on stage' for longer, but may have only sung himself for 30 minutes?/ In Kathy Westmoreland's Book she writes in her Diary that they started the show at 2.30pm and had finished by 4.30pm - which just about sounds right for the warm up acts and Elvis's show. Elvis arrives on stage removes his dark glasses and survey's the huge audience and see's that it looks Good from that point on seeing the crowd in his pocket Elvis acts like he's got in made. If any show on this tour coming up represents a bad show then surely his heavily criticized St Paul 2.10.74 show would have to be the one? Although I should say here that his return show to Detroit wasn't well received with Elvis looking bored and rushing through his early hits. On 29th September as Elvis entered the stadium in his Chinese Dragon suit removes his Dark Glasses and according to press reports looked at his loyal subjects. The Detroit Free Press review by Lawrence Devine thought Elvis looked and sounded like an atomic testing ground! Devine goes on to describe Elvis' s appearance as lithe and strong looking. The July 2003 FTD release of Elvis singing a part of Peggy Lee's 'Allright,OK,You Win during the intros along with Glen D. Hardins solo is VERY interesting to have-particularly as it's such a 'rare' performance! :
Well alright, okay, you win
I'm in love with you
Well alright, okay, you win
Baby, what can I do
I'll do anything you say
It's just got to be that way
(which is really just 1 verse of the song) Means that My Audio dated as 29.9.74 cannot be correct and very likely is the Detroit 4.10.74 show(as a lot of the video matches the audio-unfortunately I cannot be sure!) Certainly this re-opens the can of worms on the poor Detroit 29.9.74 show !
September 30, 1974. (8:30 pm) South Bend, IN. Notre Dame Ath Center.
Track listing
2001 Theme / C.C. Rider / Dialogue / I Got A Woman / Amen / Dialogue / Love Me / Blue Suede Shoes / It's Midnight / Big Boss Man / Fever / Love Me Tender / Hound Dog / If You Love Me / Bridge Over Troubled Water / Dialogue / Introductions / Lawdy Miss Clawdy / Killing Me Softly (Voice) / Polk Salad Annie / Why Me Lord / All Shook Up / Teddy Bear - Don't Be Cruel / You Gave Me A Mountain / Let Me Be There / The Hawaiian Wedding Song / Johnny B.Goode / Dialogue / Can't help falling In Love / Closing Vamp.
Running Time: 70 minutes. Attendance: 12,301 Jumpsuit: Mad Tiger
This was Elvis's first appearance at South Bend and after his show in Detroit on 29.9.74 . Dressed in his Mad Tiger Jumpsuit (for only the 3rd time EVER!) Elvis performed his BEST show this tour at the University of Notre Damme for 12,301 fans each night. Elvis consenting to the extra 30.9.74 show -so that students might get a chance to see him. Straight away with C.C.RIDER it' s a strong opening by Elvis and lots of crowd excitement. Elvis like his recent Vegas season talks more often and says next 'good evening, it's a pleasure to be here'. I just work here, my 3rd song went Well right on the ending, I'll turn around - just give me a chance, I've got to do a show..... Then Elvis accepts Teddy Bears, Hound Dogs from fans- one Dog which he says he'll keep for his daughter. I GOT A WOMAN next is once again relatively strong version. At the end of AMEN where Elvis is getting J.D.Sumner to do his low note again Elvis says, He's the lowest Bass singer in the world- in fact he's the lowest Guy I've ever met!- he can do it better, listen to him this time. Finally the song ends with J.D's low note and Elvis's I GOT A WOMAN reprise.
Elvis introduces himself as Wayne Newton saying he hopes everyone has a good time. LOVE ME is ok but BLUE SUEDE SHOES performed next REALLY ROCKS as the audience clap along and Elvis put's some fire & energy into an otherwise throwaway number. IT'S MIDNIGHT is introduced as his new song and beautifully performed with Elvis mentioning to Kathy Westmoreland 'talk to me, It's Midnight baby' and 'Lord God I miss you!'. Straight into a fantastic version of BIG BOSS MAN where Elvis sings out of this world singing circles around himself in a very Strong version. FEVER next receives enthusiastic audience clapping along. LOVE ME TENDER is well sung, whilst HOUND DOG only seems the usual throwaway version. After more prolonged mingling with the fans and giving out scarves IF YOU LOVE ME(LET ME KNOW) is a pleasing duet with Sherrill Neilson.After saying 'lets do BRIDGE OVER TROUBLED WATER for you' , Elvis delivers a superb version that had many fans present near tears!. Elvis then made one of his more famous comments(that was picked up by the press) that he gets a pain in his Stomach when singing from the Gut!, then he says that he can't accept this King title thing because to him there is only one Christ (much applause) During the introductions Elvis intros the Sweet Inspirations saying they used to be called the Crew Cuts!, He tells of J.D.Sumner meeting him when he was 16 years old and never thought J.D would be on the same stage with him!. After intros of each member of the Stamps Quartet Elvis says The little Girl with the high voice has been with me for about 4 years-Kathy Westmoreland, then bordering on a risky comment Elvis adds that Kathy and I had a running Romance for 4 years!, go cat go, James Burton gets a solo and intro as one of the funkiest Guitar players Ronnie Tutt Also gets a brief instrumental before Duke Bardwell really gets goaded along as Elvis pushes him asking him to 'play it' then afterwards says it was 'fair'.Glen D.Hardins instrumental with Lawdy Miss Clawdy gets Elvis singing along which is good before Elvis mentions his friend Charlie Hodge. After the Joe Geurcio intro we get the Trombone players low flat at Elvis's request before Elvis gets VOICE to Perform their version of Killing Me Softly. This gives Elvis a rest before an energetic version of POLK SALAD ANNIE. WHY ME LORD is another joke version as Elvis kids J.D.Sumner trying to make him laugh.
ALL SHOOK UP next is vibrant and TEDDY BEAR/DON' T BE CRUEL is another chance for scarves. Elvis performs a strong version of YOU GAVE ME A MOUNTAIN next including a few spoken parts I've climbed them all one by one +my wife. LET ME BE THERE receives a very enthusiastic performance as Elvis rocks and repeats the ending twice!. Elvis says next 'The most requested song from the movie Blue Hawaii is THE HAWAIIAN WEDDING SONG'- a pretty good version is performed before it's back to Rock n' Roll with a strong version of JOHNNY B.GOODE which includes more lyrics than usually sung and really Rocks. Following this Elvis says 'We love what were doing on stage, singing for you, until we see you next time God Bless you and be careful driving home' The show closes now with the familiar CAN'T HELP FALLING IN LOVE as Elvis covers the whole stage, a thunderous CLOSING VAMP and cheers from the delighted audience.
This has been one of Elvis's BEST EVER shows, in many ways similar to the best parts of the Las Vegas 2.9.74 closing show in that it has been very musical. Also picked up by newspaper reviews was the fact that Elvis related well with his audience and really entertained them in a great up-beat show throughout. In South Bend Bill Borden of the South Bend Tribune describes Elvis as Fresh, Vital, Confident and Talented A new warm, talkative and easy going Elvis has emerged and he turned a vast hall into an intimate nightclub. He can sing the Blues. He shouts and sighs them with emotion, singing about love and bad times and suffering the way so many other singers do but never quite carry off. A Glowing review!.