Menu
Concerts
Reviews
Multimedia
Legal Information
Road Trip To Texas 2017 Part 2 by Francesc Lopez
Leaving Greenville behind, we went to a lake called Lake Cypress Springs. The location is near enough to cities where Elvis performed so it was a perfect base to explore them, and also to spend some days in a nice cabin.
New Boston, TX.
On July 5th, we travelled on US HWY 30 to New Boston, a small town located a few miles from the Oklahoma and Arkansas borders. The population is around 4500, according to the US Census from 2010. Elvis played in New Boston three times but there is no written confirmation of the dates. Unfortunately, we learned at the New Boston Public Library that the newspaper archives burned in a barn years ago.
The first concert in New Boston took place at the Red River Arsenal NCO. According to the book "These Are My People: The Merle Kilgore Story," by Mark Rickert, Merle Kilgore opened for Elvis at the the River Arsenal NCO Club on December 31, 1954. The location is now the Red River Army Depot, a US military installation.
Elvis played two concerts at New Boston High School, one at the Gym on January 11, 1955 and another at the Football field in June 1955. The football field where Elvis played is actually the current practice football field, according to a teenager who offered help when we asked for information at the high school office.
We are not certain that the photos below are from the Gym where Elvis performed in January 1955, but this was the only old structure left on the school campus that looks like a gym.
We left New Boston and headed to a new destination: De Kalb, Texas. Before that, we thought it would be a good idea to cross the state border to Oklahoma to see the Red River. We were only four or five miles from the border. Surprise, surprise - our geography was not as good as we thought - and after 10 minutes, we were in ... Arkansas!But hey, we saw the Red River!
De Kalb, TX.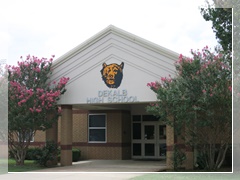 De Kalb is a very small city, only fifteen minutes away from New Boston. We quickly found the high school campus and noticed that all the buildings were fairly new. Soon enough, we learned from a school employee that the city of De Kalb was hit by a tornado on May 4, 1999 and most of the high school buildings were destroyed. He showed us where the gym had been located where Elvis played on March 4, 1955.
We left De Kalb, and since was still failry early, we decided to head north, and this time we crossed the Oklahoma border. Success!
After our multiple state crossings, we headed back to our cabin at Lake Cypress Springs, where we planned more adventures to explore the next day.