Menu
Concerts
Reviews
Multimedia
Legal Information
Road Trip To Texas Part 3 by Francesc Lopez
San Antonio, TX.
Elvis didn't start playing in San Antonio until 1956. His first appearance on January 15, 1956 was held at the Municipal Auditorium, a majestic building built in 1926. The photo below was taken from the Tower of The Americas.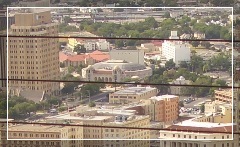 Elvis' second appearance, on April 15, 1956 at the Municipal Auditorium, caused a riot of 3,000 teenagers storming his dressing room.
On October 14, 1956, Elvis appeared again in San Antonio, but this time he appeared at the Bexcar County Coliseum, built in 1949, renamed years later as Joe Freeman Coliseum.
San Antonio was hot and humid during our visit in July, but early morning hours were pleasant enough to visit an Animal Safari and a Natural Bridge Cavern. Then we moved on toward Midland. There are numerous roads that can be taken to get to Midland, so we took the one that took us first to Cherry Spring, around 2 hours from San Antonio.
Cherry Spring, TX.
Cherry Spring is a tiny, little farm community north of Fredericksburg in US Highway 87.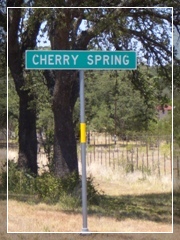 We looked for the Cherry Spring Dance Hall, but unfortunately, the guitar-shaped sign that once was in front of the hall is long gone. For that reason we were doubtful about where the building was, even though there are not many buildings around there. We snapped photos of the most likely one, and verified it was the Cherry Spring Dance Hall when we returned home. Elvis performed in Cherry Springs on October 9, 1955, as announced in an ad in The Llano News newspaper
.
San Angelo is also on the way to Midland, so we stopped to visit the site where Elvis performed.
San Angelo, TX.
The City Auditorium where Elvis performed in San Angelo was temporarily closed because of renovations and is expected to reopen in 2012. Elvis played there two times early in 1955. For the performance on January 5, 1955, the San Angelo Standard Times misspelled Elvis' name. We were not able to find any reference to the concert on February 17, 1955.
The City Auditorium was built in 1928 with a seating capacity of 1570. Nowadays it houses the City Hall and is home to the San Angelo Symphony and the San Angelo Civic Ballet's annual performances of "The Nutcracker.""1
Before we reached Midland, we stopped in Big Spring.
Big Spring, TX.
After six hours of driving from San Antonio and stopping in various towns, we arrived at Big Spring, a mid-size city on US Highway 20 where Elvis performed at the Municipal Auditorium.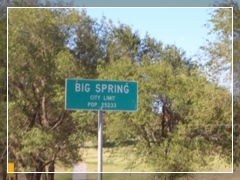 For some reason the replica of the Statue of Liberty formerly found in front of the building is missing, even though the pedestal was still there. A plaque in front of the building states that The Municipal Auditorium was financed by a $200,000 bond election in 1931 and it was completed in September of 1932. The Auditorium, with a seating capacity of 1,412, became the center for cultural productions. Both professional and local famous performers in the fields of dance, drama, opera and symphony brought unforgettable entertainment to the citizens of Big Spring.
Elvis performed in Big Spring on April 26, 1955, accompanied by Dub Dickerson, Chuck Lee and Gene Kay.
From Big Spring, we traveled on to Midland where we spent the night.
---
1 According to City Auditorium - Venues - San Angelo