Menu
Concerts
Reviews
Multimedia
Legal Information
Concerts Reviewed - 1970
International Earthquake - MEMORY 2022-2
A Classic Bootleg review by Javilu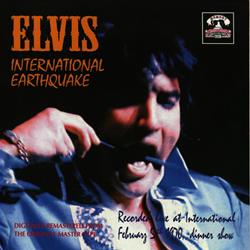 Las Vegas, February 5, 1970, Dinner Show
Playing time 56.05
This is one of the famous concerts recorded by Rick Rennie, which means better quality than average for a 1970 audience recording.
It was previously released as "CC Rider" and "Sheik of the desert", but the "Memory" edition, released in 2002, has the best sound quality of them all.
In the booklet they claim having professionally remastered the concert from the original master tape and it shows, for the improvement in quality over the previous releases is noticeable.
For an early 1970 audience recording show, the sound is excellent, tho' not as good as Rick's august recordings would be.
There's a lot of noticeable overloading at the beginning of many songs on the cd but it gets better as the concert goes by, as if Rick had to adjust the settings on his tape machine, or he had to raise the volume between songs to capture Elvis' banter.
The booklet has liner notes written by the late Rennie himself and a couple of related pics.
The corny Vegas introduction music gives place to a powerful "All Shook Up" opener.
"I got a little bit of cold but I feel fine" Elvis sings during the song.
A rockin' "I Got A Woman" follows and in case anyone doubts it's a dinner show, fork and knife noises are heard while Elvis rocks his way through a song that would remain in his concerts 'till the very last one.
After a brief talk about having the flu, "Proud Mary" follows. It's a great version, not as rushed as the ones that Elvis would perform in later years and that gives the CCR classic a more soulful feel. Sadly, this song also suffers from a bit of overload in places.
"Don't Cry Daddy" gets a fantastic rendition, not as rushed as the August versions and with no fooling around by Elvis. A flawless performance.
On "Teddy Bear/Don't Be Cruel" we hear a focused Elvis who concentrates on the song instead of giving away scarfs like he would in later years.
A great version of "Love Me" follows. As most early 70' live versions of this song, the tempo is close to the original and Elvis' vocal is fantastic throughout the song. What a pleasure it is to hear Elvis committed to the 50s songs!
"CC Rider" follows with no intro. Elvis just starts singing the song and the band follows him. This version is great and James Burton really rocks during his solo.
"Let It Be Me" is performed gentler and slower than on the "On Stage" version and is a pleasure to hear. This is one of the highlights of the concert.
"I Can't Stop Loving You" follows and it's a standard version, not bad.
A short "Love Me Tender" is enjoyable because the kissing session doesn't drag as it would in August.
"In The Ghetto" is not different from the August renditions that would be recorded for "That's The Way It Is" and Elvis performs a great version of the 1969 classic from the American Sound studio sessions.
"Sweet Caroline" is great, showcasing a totally committed Elvis giving his all on this Neil Diamond song.
"Polk Salad Annie" is another early version of a song that would be performed a lot faster in later concerts. The flu Elvis has really shows during one of the verses but nevertheless Presley puts on a great performance of the Tony Joe White tune.
Elvis claims to have requests for several songs when a woman in the audience requests "Double Trouble"! I wonder if Elvis heard it.
The Band Introductions are short and sweet as always in the early concert years.
A powerful "Suspicious Minds" gets the great early 1970 treatment and is slightly shortened compared to the extended 1969 Vegas versions.
The concert comes to an end with a standard "Can't Help Falling In Love With You".
Bob Lanning's drumming is fantastic throughout and he proved to be a fine replacement for Ronnie Tutt in this early 1970 Vegas season. All the TCB band does a solid, fine job backing Elvis.
As a bonus, you can hear Rick's comments recorded prior to the concert and found on the same tape.
Rick complains that the performances he attended in 1969 were much more spectacular that the live album RCA released thus his intention of recording complete concerts.
If you're after a decent audience recordings and a committed Elvis singing with passion and joy with very little fooling around, try to get a copy of "International Earthquake", you will enjoy it.
(c) Javilu - December 6, 2011