Menu
Concerts
Reviews
Multimedia
Legal Information
Concerts Reviewed - 1974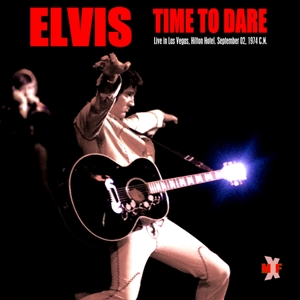 "Time To Dare"
A Classic Bootleg review by Joern
1974. The first half of the year was filled with solid to strong performances by Presley. There are a few concerts who really stand out, for example the one in Richmond from March 18th (1st class bootleg release as Guaranteed To Blow Your Mind), Memphis from March 20th (officially released as Recorded Live On Stage In Memphis) or Kansas City from June 29th (classical bootleg release from Fort Baxter on the 1st volume of the Profile boxes also as a re-release from Fort Baxter). A lot of others are proof enough that Elvis was still a strong performer who could put on one hell of a show if he cares about his act.
One can only speculate what happened during the pause between the end of the July tour and the beginning of the August/ September engagement in Vegas - or better what happened after the opening show and how things could have went that bad until the end of the engagement. It would last nearly six months to revive his act properly.
Certainly it is not popular to critizise Presley for the opening show of that engagement. He rehearsed and really tried hard to get his act together (From Sunset Blvd. To Paradise Road). So did he succeed completely? So-so could be the answer, because the tracklisting was tremendous - his singing wasn't in all places. Also his speech was clearly slurred in parts and showed signs of things to come.
So what we have here is a re-release of the closing show of this infamous engagement which was released years ago from the very well-known Fort Baxter label as 'Desert Storm'. The new title now is 'Time To Dare' from the MxF label. The new release is more complete than the old one - the former missing tracks as the Opening theme, See See Rider & I Can't Live Without You are now there.
If they had put them into in soundboard quality, it would have made sense, but not in the hissy audience quality they're offered here. They haven't done a good job on editing/changing from AR to soundboard either. I for one prefer an incomplete soundboard, except the quality of the audience recording is excellent or at least the editing fits well. Neither or nor is the case on this release. The overall soundquality is less improved as they've announced - no wonder here - what did we had to expect from the label which is known for lower quality releases.
The layout of the cover has improved which is no trick compared to the Fort Baxter layout from the 90s. In comparison to some recent quality labels like Madison, Southern Comfort or Straight Arrow the design is off-grade, but that's something that the performance itself accommodates. Sureley they've used 22 pictures for the booklet - most of them in good quality. A few of them were new to me - but putting picture next to picture isn't a design - at least not for me.
The estimation of the performance itself is a delicate issue. The ones who were at the show saw a really lengthy show. If Elvis would have performed such a lengthy show everyone would have been pleased and everything would have been fine. But what the audience had to get through were roundabout 16 minutes of monologues about jewelry, the ex-wife and her aficionado, relationships to new girlfriends, book advertising and last but not least the now infamous drug monologue. They also had to get through nearly nine minutes of band introductions, four minutes of celebrity introductions including the insult of Bill Cosby being a 'son of a b****'! To complete the picture... they had to listen to nearly 12 minutes performed by Voice for which they didn't pay for. So in the end the audience got 55 minutes of Elvis including more than 6 and a half minute of the less inspiring 'I Got A Woman/ Amen' routine and a twice performed 'It's Now Or Never'. Even for me as a die-hard collector it's a challenge to listen to the whole show, but I really wonder what the regular Vegas visitor might have thought, who bought tickets for that show to have some fun before going back to the casinos. Meanings about the show can differ - that's for sure, but how the people behind the MxF label can say that the show has been "the best show of the year" (that is a quote!!) beats everything!
To conclude this: I bought this only for one reason. I had only a copy of "Desert Storm" and wanted real pressed silver CDs for my collection. Now I have it. Will I listen to it on a regular basis? I really have my doubts about that. Recommended? Judge for yourself.
(c) Joern - August 6, 2011