Menu
Concerts
Reviews
Multimedia
Legal Information
On Tour, November 5 - November 16, 1971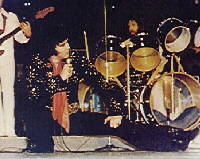 The only tour for Elvis in 1971, after two Las Vegas seasons and his debut Lake Tahoe engagement, had him play fourteen shows in twelve days. This tour was the first time that capes became in full use. He had started wearing capes during the last few days of the previous Las Vegas engagement in September, but, starting with this tour, the capes became regulars on the jumpsuits.
Other changes starting with this tour was the change of backing group. The Imperial Quartet was replaced by Elvis' hero's - J.D. Sumner - group, The Stamps Quartet. This was thought to be because the Colonel refused to give The Imperials a pay rise.
There were some rare songs played on this tour, and Elvis seemed to be loving the new settings after being in Vegas & Tahoe for nearly 3 months of the past year. Songs like Hawaiian Wedding Song, Are You Lonesome Tonight?, One Night, It's Now Or Never, The First Time Ever I Saw Your Face & the highlight of the tour; Bridge Over Troubled Water.
At the show in Louisville a special guest was in the audience of an Elvis show for only the second time (he also saw Elvis in Louisville in 1956) was Elvis' grandfather Jessie Presley.
Video Information
Amateur footage.
ROCKIN' THE NATION #4 features footage from Kansas City, MO (November 15, 1971) (12'00")
ROCKIN' THE NATION #8 features footage from Baltimore, MD (November 9, 1971) (5'30") & (9'30") also features from Boston, MA (November 10, 1971) (3'12")
ROCKIN' THE NATION #15 features footage from Dallas, TX (November 13, 1971 EVE Show) (2'00")
TOURING THE USA #2 features footage from Kansas City, MO (November 15, 1971) (6'45") and short clip of 30 secs at the end of the tape.
CROSS COUNTRY VOL #1 features footage from Cincinnati, OH (November 11, 1971) (7'55")
CROSS COUNTRY VOL #2 features footage from Cincinnati, OH (November 11, 1971) (8'29")
THE KING ROCKS #4 features footage from Cincinnati, OH (November 11, 1971) (1'00"), Baltimore, MO (November 9, 1971) (5'05"), Philadelphia, PA (November 8, 1971) (0'45") and Kansas City, MO (November 15, 1971) (15'00")
THE KING ROCKS #5 features footage from Cincinnati, OH (November 11, 1971) (8'45")
COLLECTORS' GOLD VOL 6 features footage from Kansas City, MO (November 15, 1971) (7'30")
LIVE ON STAGE # 4 features footage from Cincinnati, OH (November 11, 1971) (9'33") and Kansas City, MO (November 15, 1971) (6'40")