Menu
Concerts
Reviews
Multimedia
Legal Information
Home > Live CDs Analyzed > Apr. 24, 1977, Ann Arbor, MI & Apr. 26, 1977, Kalamazoo, MI
April 24, 1977, Ann Arbor, MI & April 26, 1977, Kalamazoo, MI
by Henryk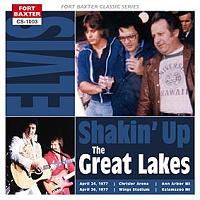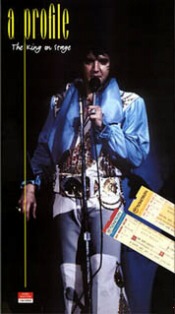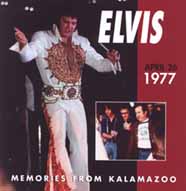 A Profile - The King On Stage, Vol. 1 CD4 [Ann Arbor, April 24, 1977)] (Fort Baxter)
an incomplete soundboard recording of very good sound quality
16 tracks in total, with 13 of them being recorded in Ann Arbor
the additional three songs were lifted from the February 13, 1977 concert in West Palm Beach, FL ("Blueberry Hill") and the February 14, 1977 show in St. Petersburg, FL ("Danny Boy" and "Walk With Me", both sung by Sherill Nielsen)
the recording starts with Elvis introducing "If You Love Me (Let Me Know)," however he actually seems to be saying "If You Lef' Me Let Me Know"
"It's Now Or Never" is preceded by "O Sole Mio" (as sung by S. Nielsen), but it's not in the track list
before "Little Sister" a fan asks for "Blue Hawaii" to be sung and Elvis, clearly taken by surprise, starts the song twice ("Night and you and...") requesting the band to "do something on it. Right or wrong, it don't matter," but then he says "No, we haven't rehearsed that" and goes for "Little Sister"
presented as part of the legendary "A Profile - The King On Stage (Volume 1) 4CD box-set, with each CD housed in a separate standard jewel case including a 4-page booklet (the inner pages are blank though) and a back cover.
Running time: 44 min. 27 sec.
Running time (the Ann Arbor tracks): 37 min. 28 sec.
Memories From Kalamazoo [Kalamazoo, April 26, 1977.] (Vavavoom Records)
a very incomplete soundboard recording (12 tracks only) of very good sound quality
the recording starts with "Love Me" and the final track is "My Way"
"Fairytale" is a 32 sec. long false start only
due to microphone problems the first attempt at "And I Love You So" is soon abandoned, after the problem is fixed Elvis performs the song in full
pretty basic design and artwork (a 4-page booklet including several 1977 concert photos).
Running time: 31 min. 28 sec.
Shakin' Up The Great Lakes [April 24 & 26, 1977.] (Baxter Classic Series)
a more complete version of both shows (Ann Arbor & Kalamazoo)
28 tracks, with #01-15 coming from the Ann Arbor show and #16-28 from the Kalamazoo gig two days later
"Love Me" recorded in Ann Arbor is previously unreleased but incomplete (it starts in the middle and runs for 1 min. 36 sec.)
Ann Arbor's "Hound Dog" is also previously unreleased
"Hound Dog" and "Can't Help Falling In Love" from Kalamazoo are previously unreleased
"And I Love You So" from Kalamazoo is presented as one track (unlike the Vavavoom's version where the false start and the full rendition are two separate tracks), but it is edited down (the fixing the mike problem part)
great design and artwork (a 12-page booklet, full of excellent photos and informative liner notes)
Running time: 74 min. 59 sec.
Running time (the Ann Arbor tracks): 40 min. 58 sec.
Running time (the Kalamazoo tracks): 34 min. 01 sec.
General comments:
Detailed running time differences:
"Memories From Kalamazoo"
Track 10. And I Love You So (False Start / Mike Problems)
1 min 39 sec
Track 11. And I Love You So
3 min 22 sec
TOTAL:
5 min 01 sec
"Shakin' Up The Great Lakes"
Track 25. And I Love You So
4 min 08 sec