Menu
Concerts
Reviews
Multimedia
Legal Information
Home > Live CDs Analyzed > Crying Time In Vegas vs Vegas Variety Vol 4
Crying Time In Vegas vs Vegas Variety Vol 4
by Henryk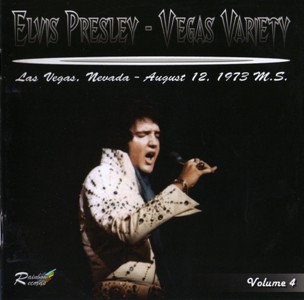 Crying Time In Vegas (JB-10000) [August 12, 1973 (Midnight Show), Las Vegas, NV.]
an incomplete (see below) audience recording of pretty bad quality;
the recording runs way too fast (see below) making Elvis sound awkward and unnatural;
23 tracks in total;
"Can't Help Falling In Love" is incomplete (it fades out seconds before its conclusion);
the introductions and the closing theme are missing;
very basic and extremely poor artwork; the quality of both the print and the photographs used leave a lot to be desired, not to mention the fact that the pictures "gracing" the covers come from July 1975.
Running time: 53 min. 00 sec.
Vegas Variety, Volume 4 (Rainbow Records) [August 12, 1973 (Midnight Show), Las Vegas, NV.]
an incomplete (see below), speed corrected audience recording of pretty good quality (however, it's a little more complete than "Crying Time In Vegas");
the sound quality, although still far from great, is significantly improved and much more listenable when compared to what can heard on "Crying Time In Vegas";
24 tracks in total, with Band Introductions and "Can't Help Falling In Love" being incomplete;
the difference in sound quality between track #15 (Band Introductions) and the rest of the tracks suggests an alternate (and inferior) source was used to fill the missing spot;
the closing theme is still missing;
the artwork is first-rate and nicely laid out; the 20-page full-color booklet features many photographs taken during the August-September '73 Las Vegas engagement, complimented by candid shots and a short essay by Jean-Marc Gargiulo (taken from the "Behind The Image, Vol. 2" book).
Running time: 58 min. 52 sec.
General comments:
this Vegas show features the most complete Elvis's version of (Buck Owens's 1964 hit single) "Crying Time" known to exist; it runs for 1 min. 19 sec. and Elvis sings two (of the three) verses plus the chorus (twice);
"Crying Time" was sung live-in-concert on at least two more occasions: August 21, 1970 Midnight Show (released on "You've Lost That Lovin' Feelin'" by Audionics) and September 4, 1970 Midnight Show (only available on CD-R);
"Old Shep" is being requested by a member of the audience ("I was 8 years old when I did that," Elvis replies) but Elvis decides to do "What Now My Love" instead (which - as usual - is a stunning rendition);
the show in question is very entertaining, Elvis does not fool around too much and delivers a very good show, with an interesting and varied set list.
Running time differences: