Menu
Concerts
Reviews
Multimedia
Legal Information
Home > Live CDs Analyzed > From Vegas to Macon vs In The Heart Of Georgia
From Vegas to Macon versus In The Heart Of Georgia
by Henryk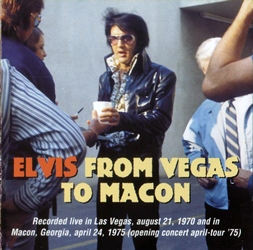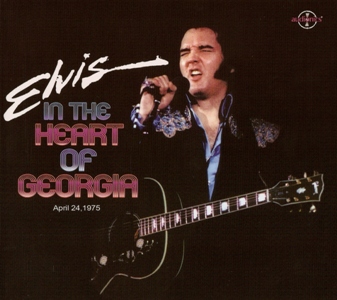 From Vegas To Macon (CD2) (Rock Legends) [April 24, 1975, Macon, GA]
a very incomplete soundboard recording of average sound quality;
only 13 tracks in total, with 11 of them featuring the singing voice of Elvis;
the band solos are presented as one (lengthy) track clocking at 6 min. 54 sec.;
pretty basic artwork and design (the CDs are housed in a standard two-disc jewel case) featuring only one photograph taken during the April '75 tour, however not in Macon (either in Jacksonville, FL or Atlanta, GA);
Running time: 40 min. 14 sec.
In The Heart Of Georgia (Audionics) [April 24, 1975, Macon, GA]
an incomplete soundboard recording of good sound quality (slightly improved when compared to the original release of the show);
much more complete than "From Vegas To Macon (CD2)," with the new tracks being "Let Me Be There," "An America Trilogy," "Can't Help Falling In Love," and "Closing Vamp";
"I'll Remember You" is complete but spliced from two different tape sources;
as indicated by the producers, the new source used for tracks 19-22 (plus the final part of track 18) is of inferior quality when compared to the tape source of tracks 01-18;
22 tracks, with the band members' solos being separate tracks;
although the producers claim that "all photographs used [...] were taken on April 24," one of them depicts Elvis wearing the navy blue suit with red epaulettes, although the suit worn on that day in Macon featured blue epaulettes of different pattern;
presented in a stylish three-panel, gate-fold digipak featuring 16 photographs of Elvis, short liner notes, and technical information explaining the difference in sound quality between tracks 1-18 and 19-22.
Running time: 50 min. 31 sec.
General comments:
the show was the opening night of the first tour of 1975, which meant new two-piece outfits and new songs in the set list for the southern audiences;
the songs added to the show in March (Las Vegas) and performed during the April tour were: "And I Love You So," "Fairytale," and "Little Darlin'";
"T-R-O-U-B-L-E" was first performed live on April 24 in Macon;
the concert is a good opening show, however Elvis isn't at his greatest yet (he would get better as the tour progressed);
Running time differences:
"From Vegas To Macon"
13. I'll Remember You 2 min 05 sec.
(faded out)
"In The Heart Of Georgia"
16. I'll Remember You 2 min. 31 sec.
(spliced from 2 tape sources)