Menu
Concerts
Reviews
Multimedia
Legal Information
Home > Live CDs Analyzed > Sweet Carolina vs A Greesnboro Revolution
Sweet Carolina versus A Greesnboro Revolution
by Henryk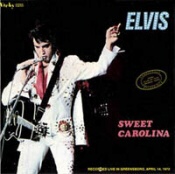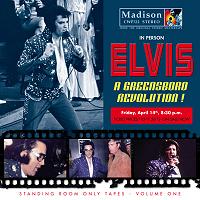 Sweet Carolina (Vicky Records) [April 14, 1972 (8:30 pm)]
a complete (mono) soundboard recording of fair quality;
23 track in total;
the disc running time as given on the back cover reads 60 min. 01 sec., but the in reality the show runs a little longer, clocking at 61 min. 42 sec.;
Closing Vamp (concluding track #23 which is Can't Help Falling In Love) is complete and followed by final "Elvis Has Left the Building" announcement;
the photograph used on the front cover is not from Greensboro; it was taken during the November 1971 tour (most likely in Baltimore, MD or Kansas City, MO)
basic artwork feat. a 4-page booklet including two 'live' shots of Elvis wearing the Red Lion suit and the track listing.
Running time: 61 min. 42 sec.
A Greensboro Revolution (Madison) [April 14, 1972 (8:30 pm)]
(supposedly) mixed down from MGM's multi-track tapes into stereo;
sound quality is a hugely improvement when compared to "Sweet Caroline";
the show is not a 100% complete as the closing vamp is edited and faded out;
25 tracks including two bonus cuts:
track #24 being a backstage conversation recorded in Macon, GA on April 15, 1972
track #25 being the unrepaired, incomplete stereo version of "Bridge Over Troubled Water," with half of the first verse missing
the CD does not include the "Elvis Has Left the Building" announcement;
due to the fact a snippet of "Bridge Over Troubled Water" was missing from the source tape, it was replaced with the same bit as "'flown in' from the mono film soundtrack";
(as indicated before) the Closing Vamp is incomplete (and runs for 33 sec. only);
exceptional artwork and design feat. a 16-page booklet, with extensive liner notes and full of excellent photography.
Running time: 65 min. 37 sec.
The Greensboro Show: 60 min. 55 sec.
General comments:
one of the four shows recorded by RCA for the Elvis On Tour project;
one of the only two dates when Elvis wore the Owl suit (the other being the evening show in San Bernardino on November 13, 1972);v
a superb performance, with Elvis in great shape both physically and vocally;
the show was also released on "The Legend Live" (European Kings Club), "The Greensboro Concert" (Triangle, with the original pressing being a CD-R), and "The Greensboro Show" (The Godfatherecords, who simply copied the Madison release).
Detailed running time differences:
| "Sweet Carolina" | |
| --- | --- |
| Can't Help Falling In Love/Closing Vamp 2 min. 44 sec. | |
| "A Greensboro Revolution" | |
| Can't Help Falling In Love/Closing Vamp 2 min. 13 sec. | |