Menu
Concerts
Reviews
Multimedia
Legal Information
Home > Live CDs Analyzed > From Vegas to Macon vs August Reloaded
From Vegas to Macon versus August Reloaded
by Henryk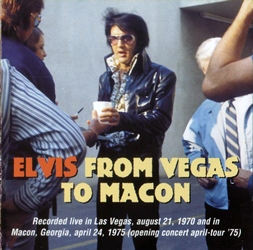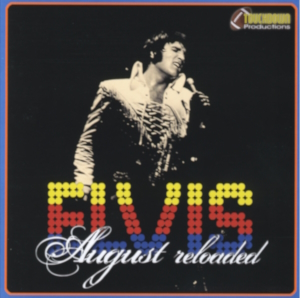 From Vegas To Macon (CD1) (Rock Legends) [August 21, 1970, Las Vegas, NV, DS]
an audience recording of very good sound quality;
the show is not complete as the final segment of it (starting at the 4:50 mark of "Suspicious Minds" and onwards) belongs to the Midnight Show of the same night (as released in 2001 by Audionics on "You've Lost That Lovin' Feelin'");
the shows runs too fast (approx. 2%) thus its running time is 1 minute shorter than it is on "August Reloaded";
18 tracks in total, with 18 songs (plus "Happy Birthday") being performed (two of them sung as a medley);
the artwork is pretty basic and a bit strange; the four-page booklet features an August 1970 candid shot of Elvis on the cover, a 1969 live shot inside (pp. 2-3), a "Change Of Habit" on-set photo (page 4) and a February 1970 concert picture on the back cover; there are no liner notes whatsoever (a common practice during the 1990s);
Running time: 63 min. 18 sec.
August Reloaded (Touchdown Productions) [August 21, 1970, Las Vegas, NV, DS]
an audience recording of very good audio quality (being quite an improvement when compared to "From Vegas To Macon");
the show has been speed-corrected and so its running time is a minute longer to what was presented by Rock Legends;
the final part of the show (see above) is still the August 21, 1970 MS version (as no new tape source was used for "August Reloaded");
24 tracks in total (incl. the bonus track - "I've Lost You" - also recorded at the Midnight Show), but it is still the same 18 songs (plus "Happy Birthday");
the running time of the disc's final two tracks is misprinted on the cover;
excellent artwork and design; the 16-page booklet includes a handsome collection of photographs taken during the August-September 1970 Las Vegas season; the liner notes shortly review the engagement, and there's also a tribute to the late Rick Rennie, who recorded this show (as well as many others between August 1969 and May 1973);
Running time: 67 min. 58 sec.
The show: 64 min. 17 sec.
The bonus song: 3 min. 41 sec.
General comments:
a very good and entertaining show, with Elvis being in great mood;
no rarities were performed that evening (unlike the Midnight Show of the same day, with its rare rendition of "Crying Time"); nonetheless, the show still features a very good and varied set list;
"Happy Birthday" is sung after "Johnny B. Goode" and is dedicated to James Burton (born August 21, 1939);
the recording represents one of the 11 shows taped by Rick Rennie released on CD during the last two decades; Rennie's tape of the August 2, 1969 concert was confiscated by the hotel security.