Menu
Concerts
Reviews
Multimedia
Legal Information
Home > Live CDs Analyzed > Carry Me Back To Old Virginia vs Red Hot In Richmond
Carry Me Back To Old Virginia versus Red Hot In Richmond
by Henryk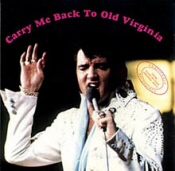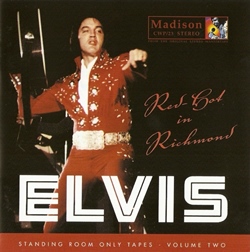 Carry Me Back To Old Virginia (Vicky) [April 10, 1972.]
a soundboard recording (mono) of fair quality;
the tape used is very incomplete (17 tracks only); the missing tracks are:
Also Sprach Zarathustra
Teddy Bear / Don't Be Cruel
Heartbreak Hotel
Hound Dog
Suspicious Minds
I Can't Stop Loving You
Lawdy Miss Clawdy
"See See Rider" (track #1) is incomplete (it starts almost halfway through and runs for only 1 min. 18 sec.);
"Closing Theme" (track #17) is complete and followed by final announcements;
the photograph on the front cover was taken in Albuquerque, NM;
basic artwork (4 pages including several shots of Elvis in Richmond wearing the Red Matador jumpsuit).
Running time: 43 min. 05 sec.
Red-Hot In Richmond (Madison) [April 10, 1972.]
(supposedly) mixed down from MGM's multi-track tapes into stereo
23 tracks including the all the missing tracks from the Vicky release
"Lawdy Miss Clawdy" is incomplete (the first part of the song is missing, which is approx. 30 sec.)
"Closing Vamp" is incomplete (and runs for 21 sec. only) and the final announcements aren't there either;
great design and artwork (a 16-page booklet, with extensive liner notes and a mass of excellent pictures).
Running time: 58 min. 52 sec.
General comments:
one of the four shows recorded by RCA for the Elvis On Tour project;
one of the four dates when Elvis wore the Red Matador suit;
before launching into "Funny How Time Slips Away" Elvis hums a snippet (one line only) of "Carry Me Back To Old Virginia" (a.k.a. "Carry Me Back To Old Virginny"), hence the title for the Vicky release of the show.
Detailed running time differences:
| "Carry Me Back To Old Virginia" | "Red-Hot In Richmond" |
| --- | --- |
| See See Rider 1 min. 22 sec | C.C. Rider 2 min. 59 sec. |
| ... | ... |
| (Can't Help Falling In Love 1 min. 40 sec.) | (Can't Help Falling In Love 1 min. 40 sec.) |
| Closing Theme 1 min. 41 sec. | Closing Vamp 0 min. 21 sec. |