Menu
Concerts
Reviews
Multimedia
Legal Information
Home > Songs & Tours Reviewed > Elvis: 1972 - Love in Las Vegas and For the Good Times in Hawaii Part 2

Songs and Tours Reviewed
Elvis: 1972 - Love in Las Vegas and For the Good Times in Hawaii Part 2
July-December 1972 by Geoffrey Mc Donnell-Australia.
For someone who was supposedly without a female companion since the 23.2.72 break-up, Elvis still seemed quietly promiscuous and he had an 'interesting' female back rider on his motorbike through the streets of Memphis on 30th June 72'; (later when she died Elvis sent a lot of flowers to her Funeral). Then a pure Indian girlfriend before his summer 72 Vegas season and visits from Elvis favorite Las Vegas showgirl Sandra Zancan and met Linda Thompson at the Memphian Theater on July 5th.
However on the surface Elvis in the company of friends would after the Pricilla split up ban friends / Girlfriends Wives from recording or other activities until Elvis was back to his usual self in Las Vegas in August 1972. Back in Las Vegas in August Elvis managed to keep his on-going love affair with his audience hot plus a whole lot of other girls!: Linda Thompson for the first and the last week of the month, Cybill Shepherd for 4 days. (Remember her Wogan interview in the mid 80. Then she remembered Elvis complaining that he took pills, but found him a consummate showman and now she really misses him always thankful that she saw him at his very best - as said in recent 'book' memoirs!). For another week Elvis was back in the company of Sandra Zancan, so Elvis wasn't short of attractive steady companions in August 1972!
Added to this for the last few days of the season Pricilla came along with Lisa to see some of his shows. Elvis was having lots of love in Las Vegas, as in September while husband set up for his wife's opening show in Vegas Elvis had Ann Margaret to' entertain ' in his suite for old times sake'. Elvis met so many ladies in his lifetime. It's really hard to separate fact from fiction, the papers are full of it every day.
For example Tanya Tucker was in Las Vegas many times to see Elvis especially in his December 1976 season-but then so was Glen Campbell at Elvis's 2.12.76 opening show. So called associations caused Elvis many paternity suits such as the Patricia Parker August 1970 suit in which Elvis was absolved of all guilt on 26.1.72. Indeed in Australia in August 1994, I read that Dolores Hart had broken a 30 year vow of silence to clear vicious rumors that she fathered the kings love child! Such tabloid items are common yet the truth is that although it's true that Elvis associated with countless females in his lifetime I think you'll agree that as Dolores Hart says now 'I had a very good and sound and clean relationship with Elvis' to be the 'normal' truth.
Therefore whilst speculative figures, that Elvis Presley gave away a hundred cars, wore a hundred different jumpsuits and romanced a hundred ladies may seem close to the truth. The truth will most probably never be fully and accurately known as all of Elvis's activities weren't publicized!
Certainly it's obvious and correct that Elvis was a gentleman and a 'ladies' man. Las Vegas was a very convenient place for Elvis to go to with his girlfriends over the years and later on he would often fly there in his plane whenever he felt like it.
Before Elvis went to Las Vegas in August he fell off his horse at Graceland and was a bit sore, nevertheless he prepared a week before opening in Vegas as he included much 'new' material this season. By opening night he'd developed a headache which meant that his opening show was kept to singing and a pretty short @ 45 minutes. However all it seemed to take for Elvis to get back to brilliant form was to pick up new love Linda Thompson after the opening show in Los Angeles - returning to Vegas in the afternoon of 5th August - rarely for this engagement he then sang appropriately THE WONDER OF YOU during his 5.8.72 M/S, so with Linda by his side Elvis as at his sizzling best in Las Vegas.! This resulted in shows getting better and longer from 45 minutes up to 55-60 minutes then for the last 2 weeks with the addition of J.D. Sumners self composed song WALK THAT LONESOME ROAD show length increased again up to 65 minutes long.
Elvis's regular line up for this season usually included some of the following songs all regularly performed:
LITTLE SISTER / GET BACK; C.C.RIDER; A BIG HUNK O'LOVE; YOU'VE LOST THAT LOVING FEELING; FOR THE GOOD TIMES; LOVE ME TENDER; WHAT NOW MY LOVE*; LOVE ME; BLUE SUEDE SHOES; YOU DON'T HAVE TO SAY YOU LOVE ME; HOUND DOG; MY WAY*; AN AMERICAN TRILOGY; PROUD MARY; UNTIL IT'S TIME FOR YOU TO GO; POLK SALAD ANNIE; FEVER; HEARTBREAK HOTEL; SUSPICIOUS MINDS; ALL SHOOK UP; ONE NIGHT; JOHNNY B. GOODE; I'LL REMEMBER YOU; CAN'T HELP FALLING IN LOVE; MYSTERY TRAIN / TIGER MAN; TEDDY BEAR - DON'T BE CRUEL; YOU GAVE ME A MOUNTAIN; STAMPS - WALK THAT LONESOME ROAD.
* 'new' songs sung around a couple of times were HOW GREAT THOU ART sung once, were NEVER BEEN TO SPAIN, STEAMROLLER BLUES-7.8.72 M/S, IT'S OVER - 11.8.72 M/S
The first two weeks of the Las Vegas Summer 1972 season which ran from an August 4th opening through to the September 4th closing + an additional 3am show on 3rd September was of an incredible 64 shows! Also playing in the lounge was B.B. King checking out, both shows would have given a great mix of rock n' blues! For this season Elvis's voice was great - even richer than in his January/February season! Elvis also looked superb - just as good as in the recent June tour with such HIGH QUALITY SHOWS, looking great , in excellent spirits I cannot fault any of these shows from this season-they are all good,many being just brilliant. Quite a lot of footage is circulating from this season(shot from the balcony) and considering the source it's very good, showing Elvis at the very height of his powerfu1 performing charisma in Las Vegas. Obviously RCA's Joan Deary noticed this very high quality as well as she transferred to cassette the Ilth August Dinner & Midnight shows noting EXCELLENT SHOW QUALITY- well having received BOTH these shows in recent years on 'Bootleg' I must say they are 'good'-even the 4th September D/S (also released, but wrongly dated) was good!. The' bootleg released on vinyl ' HOT SUMMER NIGHT'' is just one of the many excellent shows from this season and listening to this 16.8.72 D/S it seems impossible that Elvis could have died in 5 years time. Other brilliant, faultless shows are: 8.8.72 M/S, 12.8.72 M/S, 18.8.72 M/S, 23.8.72 M/S + 4.9.72 M/S. Whilst Elvis is in fun loving form teasing/playing around during HOUND DOG with the audience-even throwing toy hound dogs as far as the balcony, he occasionally got serious-as he would put it. One of the better versions of 'WHAT NOW MY LOVE' was performed at the 12.8.72 D/S - which has the audience silent throughout, then raptous applause afterwoods as we witness a rare window into Elvis's life at this moment. lt may surprise many fans to know that MY WAY new live here was sung the most in 1972
Interestingly Paul Anka who wrote the English words to the French song sang it very romantically with a long instrumental introduction, Frank Sinatra sang it quietly and sounded humble about it, yet Elvis seemed as with the other singers very sincere and as if he seemed really proud of his achievements. As Elvis said during the 11.8.72 D/S "I haven't eat it up yet!-let alone spat in out!" Firstly in the studio however Elvis recorded a very sedate version of MY WAY after the Gospel recordings on June 9th 1971. During the Aloha from Hawaii show Elvis stated that MY WAY was one of his favorite songs. Certainly I prefer Elvis's triumphant and powerful versions of MY WAY compared to the sincere but operatically sedate version I recently watched the 'three tenors' in concert perform as Frank Sinatra looked on.I prefer the three tenors singing AVE MARIA much better than Elvis's 'snippets' performed during the August 72 season - although clearly Elvis liked this song as lyrics were based on part of the bible.
Dress wise Elvis's August 72 engagement was divided into two parts before the split pants during the 22.8.72 M/S and after this show. Before 22nd August Elvis would wear an incredible number of different combinations of Belts ,white Jackets/slacks and coloured shirts which are commonly known and referred to as the' DUDE SUITS 'of which the combination of white coat-black pockets,white slacks and the 'PAISLEY" shirt seems to be the most well known example. I believe most pants worn were usually WHITE although not always and listed below is some of the other belts, coats and shirts worn in August 1972
Belts
White Coat With
Shirts

---

With 2 faces on it
Black pockets
Paisley
Silver
Blue pockets
Royal blue shirt
Gold
Dark blue pockets
Light blue striped shirt*
Red Eagle
Green pockets
red/brown patterened shirt
Red Eagle
Green pockets
red/brown patterened shirt
Macramé with Tassels
Silver jeweled pockets
white shirt
Blue jeweled
Blue jeweled pockets
green shirt
Green jeweled
Pants
Jade green shirt
Jade jeweled
Light blue jeweled
Brown patterned shirt
Jade jeweled
Light blue jeweled
Brown patterned shirt
White jeweled
White jeweled
Black shirt Camouflage shirt

---
*This outfit can be seen on the cover of the RCA single I'VE GOT A THING ABOUT YOU BABY/TAKE GOOD CARE OF HER
Even with all these possible combinations of dress Elvis still wore more rare ones such as at the 18.8.72 D/S when he wore a suit with short fringes-matching macramé belt with long tassels Their would have to be a couple of dozen combinations, and MORE 'NEW' suits seem to be discovered every year Indeed in Las Vegas at the 12th February 1972+ 23RD February Elvis wore the 'rare' BLACK PYRAMID SUIT suit same pattern/decoration as the much more commonly seen WHITE PYRAMID SUIT as at the Jacksonville 16.4.72 A/S!, EXCEPT opposite diagonals. During Elvis's performance of UNTIL IT'S TIME FOR YOU TO GO' at the 22.8.72 M/S Elvis split his pants and HAD to go behind the curtain to change-whilst still singing-hence the funny line changes at this show of 'until it's time for you to sew'. Therefore with this happening all too often Elvis decided to change back to jumpsuits and had them flown in from the west coast.These were often like the FAMOUS BLUE SWIRL ( first worn in June and in Las Vegas with Macramé belts with tassels also they were worn during the 3am 3.9.72 show and the closing 4.9.72 show.) It's great to see on video footage from this 3am show showing Elvis in this suit. Elvis wore his white "ADONIS" 1972 suit for the 4.9.72 D/S as was seen in Chicago in June l6th and possibly in Jacksonville at the l6.4.72 E/S. This means that 2 piece suits such as the famous Paisley and light blue/white striped shirt premiered on tour in June 72' before becoming regular in Las Vegas in August.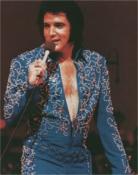 September 4, 1972 CS. Las Vegas, NV.
Sean Shaver ©
Other suits commonly seen again for Elvis's closing 2 weeks in vegas are the WHITE DIAMOND as at Jacksonville 16. 4.72 A/S and often WHITE PORTHOLE SUIT. Also referred to as the white jumpsuit with square buttons. Despite the rather large amount of amateur footage available from this season of quite reasonable watchability some even included on' RETURN TO SPLENDOUR' ) very little is correctly dated however some from the 19.8.72 M/S IS as is the 3am' 3.9.72 show and show Elvis in his white jumpsuit as at the 3.9.72M/S. Of course the famous BLUE SWIRL SUIT has been mentioned a lot lately because Elvis wore it again at the Seattle 29.4.73 A/S with instead of the Macramé belt a regular leather studded belt. Elvis seems a bit, lackluster at the 21.8.72 M/S compared to others but it's still of a high standard. Sometime here at the beginning of his 3rd week in Vegas Larry Geller was re-united with Elvis after being away for a period of around 5 years.
Elvis's weakest shows are to be found from his 3rd week-and the strongest and longest from the last week At the end of September some lucky British fans visited Elvis in Las Vegas and watched some shows in the intimate showroom atmosphere-. Elvis welcomes the British fans at the 2.9.72 M/S after appropriately LOVE ME TENDER and mentioned Todd Slaughter at the 4.9.72 D/S- but Todd couldn't be found having very generously given his seat to a fan without a tjcket. E1vis in Las Vegas in 1972 was NEVER a shallow performer and therefore it's not surprising that audience recorded tapes are in good sound as people in the audience were 'star struck' in total AWE of Elvis's stage presence and absorbed in watching the show.
Track listing for Elvis's 1.9.72 Dinner show:
2001 Theme; C.C. Rider; J.B. Goode; Until It's Time For You To Go; You Don't Have To Say You Love Me; You've Lost 'That Loving Feeling; Polk Salad Annie; What Now My Love; Fever; Love Me; Blue Suede Shoes; Heartbreak Hotel; All Shook Up; Love Me Tender; Hound Dog; I'll Remember You; Walk That Lonesome Road - J.D. Sumner & Stamps; Suspicious Minds; Introductions; For The Good Times; A Big Hunk O'love; You Gave Me A Mountain; Mystery Train / Tiger Man ; Can't Help Falling In Love.
This show is typical of the last 2 weeks of the engagement as Elvis introduced the Stamps with WALK THAT LONESOME ROAD similar as he had in April with SWEET, SWEET SPIRIT at the Hampton Roads 9.4.72 E/S. Indeed Elvis always seemed capable of changing his shows keeping them varied and interesting so much so as he was carrying on in Vegas that you'd think Elvis could have sung for another 64 shows in 72' and still enjoy it! In Elvis's shows he would vary songs daily and also a difference between Dinner and Midnight shows. Just looking at his shows from 11th + 12th August see how he changed his repertoire- over 4 shows no 2 are the same running order and there are 8 major differences featured arnongst a standard ' August 1972 listing for the 11.8.72 D/S was a performance of ONE NIGHT at the next day's D/S on 12th everything was the same except PROUD MARY now replaces I GOT A WOMAN that was performed on the 1lth D/S. At the 11.8.72 M/S, we have 3 additional songs LITTLE SISTER, IT'S OVER and A BIG HUNK O'LOVE performed aside from the 'standard' line up. Then at the l2.8.72M/S, we find NEVER BEEN TO SPAIN, FOR THE GOOD TIMES & TIGER MAN all performed, so it paid to see Elvis several times at his Vegas shows as he slightly varied every show, keeping them interesting.
Single release wise ' UNTIL IT'S TIME FOR YOU TO GO' and 'AN AMERICAN TRILOGY were flops by Elvis standards but the 'NEW' 'BURNING LOVE' hit #2 at the end of October and even the quality 'SEPARATE WAYS' managed #20 during his Winter 1973 engagement, how appropriate. Album wise in 1972, his mainly 1971 session released albums didn't sell all that well at the time. Most successful was the rushed 'Elvis as recorded at Madison Square Garden peaking at #11 in September! And steady sales for a LONG WHILE reaching multi platinum status. Even Burning Love & Hits from His Movies Vol. 2 reached GOLD!.
Running through Elvis's 1.9.72 DS, we notice that the first 2 songs grab your attention as Elvis rocks and rolls his stage presence. UNTIL IT'S TIME FOR YOU TO GO allows Elvis to greet his audience whilst mesmerizing them with his presence. The next two very famous songs that Elvis first sang in 70-71 let Elvis command the stage as he makes every inch of the stage his territory whilst dramatically showing his ballad singing-particularly prominent here in YOU'VE LOST THAT LOVING FEELING were Kathy Westmoreland's high vocal and the Flute solo which all goes to help make a dynamite performance as Elvis kicks, bumps and grinds his was through making EVERY inch of the stage under his command. Earlier this season too, he would take his jacket off at the start of the song. POLK SALAD ANNIE allows Elvis to work out with some rock and Karate whilst WHAT NOW MY LOVE shows Elvis the Actor able to wring every ounce of emotion out of every word in a song and pulling you through the mangle with him. The next 6 songs give the fans the 'hits' that they all want to hear performed and gives Elvis a chance to give out scarves and throw out HOUND Dog's to the audience whilst milking some personal story's with the lead into HOUND DOG. ' I'LL REMEMBER YOU' is quite simply a beautiful ballad and sung especially more often in the November lead up to the 'ALOHA FROM HAWAII'. SUSPICIOUS MINDS gives the audience another workout seeing one of Elvis's best songs from 1969. After all this excitement follows the intros and a wistful tender ballad FOR THE GOOD 'TIMES, the show then finishes with more rock n' rolling' through a fast up-tempo BIG HUNK O'LOVE ,a consummate performance of YOU GAVE ME A MOUNTAIN and the excitement of MYSTERY TRAIN/TIGER MAN before bidding an affectionate farewell with C.H.F.I.L. For fans listening watching the performance you are left 'wrung out' emotionally as he has taken you up and down throughout the show, but it's a nice feeling thrilled and satisfied.
The Variety review found Elvis having a pleasant party the Legend at his best. Contrary to some reports Elvis DID still, do the Karate moves, YOU'VE LOST THAT LOVING FEELING for example! But not as prolonged as the first half of the year workouts (i.e. on tour). MOST interesting was Elvis's high level of commitment to his shows here of which an example can be found after his performance of UNTIL IT'S TIME FOR YOU TO GO at the 2.9.72 D/S when Elvis reminded the band to get the tempo right the next time they performed the song, even through it was near the end of the engagement!.
Elvis cared about his songs and each performance was 'fresh' like he was singing' it for the first time, also Elvis being a perfectionist expected a quality performance from everyone during every song!. During this engagement Elvis did the odd one liners: AVE MARIA before Hound Dog at the 4.9.72 m/s, start only before MY WAY at 19.8.72 d/s I have found an as yet unidentified one liner after the Tom Jones intro at the 22.8.72 M,/S when Elvis sang: "Well,I'm goin on down on the train run" but to where Elvis Kansas or Detroit City? Any Tom Jones fans able to help?. Also 'unverified' is 4 lines of G.I. BLUES sung somewhere in this engagement. Elvis introduced many, many guests during this season and at the 3am 3.9.72 show alone introduced many including: A circus animal trainer!, comedian Marty Allen, Pat Henry, Shirley Mc Claine & Tom Jones.
A very good quality version of the STAMPS solo song WALK THAT LONESOME ROAD can also be heard from this 3am show. Finally Colonel Parker and Bobby Darin were introduced at the closing show, following which on 5th September Elvis made his much publicized appearance and announcement of the forthcoming "ALOHA FROM HAWAII" special with a back ground of straw hats with every countries name on the hat (A typical Tom Parker styled promotion!). This brief announcement was filmed and Elvis looks great in his 'DUDE' suited white jacket with black pockets .
All through this engagement Elvis's good friend B.B. King had played the lounge and then often joined Elvis in his suite later ( Elvis got a lot of his BLUES influence from B.B.) after SHOWS. When I saw B.B. King at the Sydney Entertainment center on May 4th 1994, he said that when people suggested he should play country music he said that that was best left to Elvis. If you think Elvis's closing vamp in 76/77 out on tour is long, then just wait until you hear B.B. King's!!! 10 minutes of greeting fans signing autographs, giving out buttons, shaking hands etc- all to the background music of 'one more time for B.B. King, KING of the Blues'. B.B. King gives a very warm and friendly show and although like Elvis, B.B. now shares one of the same ailments as Elvis that's only reduced the number of shows he performs each year NOT the quality. B. B. King filled the room with his warm humored southern style and o.k. sure at in his 70's B.B. sat down for the 2nd part of the show and chatted to the audience in a similar style as Elvis would in his Vegas 76' season. Recently B.B. reminisced about their times together upstairs in Elvis's suite and remembers Elvis with great affection. Indeed characteristic of Las Vegas pre-Christmas seasons in 1975 and 1976 were long guitar solos from band members. You can hear on the 13.12.75 Midnight Show (edited out of the Just Pretend CD) or the 12.12.76 closing show a second version of HAIL,HAIL, ROCK N'ROLL which features one of Elvis's favorite guitar players. The interesting point about this 2nd version is that it's in a similar STYLE of playing to B. B. King's unique sound - a very flattering tribute to B.B from Elvis.
Even after 5th September Elvis was STILL in Las Vegas as in 1972 Elvis loved Vegas it was so convenient for him, such as at this time he watched the Rowan and Martin review at the Tropicana then entertained friends-Ann Margaret included! indeed when Elvis changed later on to pre- Christmas seasons at the Hilton Ann Margaret would take 'over his traditional January Season spot such as after December 1975 season. From Vegas Elvis could fly to Los Angeles, Karate practice on the West Coast at the George Waite Karate school then back to Vegas again as he was spotted at the Paul Anka Show at Caesars Palace in early December 1972. While Elvis was travelling around, John Wilkinson traveled back to the UK where he had lived in 1960. Whilst in the UK, John was interviewed by Tony Prince ( who had also seen Elvis recently) for radio Luxembourg. In Vegas Tony had asked Elvis about his music and Elvis had replied that he was working on a ROCK & BLUES album soon (which eventually became the July 1973 sessions) In talking about Elvis John Wilkinson said that Elvis was always a real Gentleman thinking of others first even sending flowers to Johns mother whilst in hospital etc arid John also added that an awful lot of material filmed for 'ELVIS ON TOUR' was NOT included in the movie. Asked about jumpsuits John said that Elvis had about 25 which with the 'DUDE' suits would total around 40 in 1972.
Back at his west coast Karate lessons, Elvis continued practicing Karate and it was soon after 'ON TOUR' was screened that offers for him to appear in Karate movies started corning. On September 29th 1973 Billboard erroneously stated that Elvis was to play a villain in a Kung Fu adventure movie to be shot in Hawaii. Elvis now wanted to play a villain in a Karate movie and the Rick Husky story goes that Elvis could play a retired CIA Agent running a Karate school who had a friend who was murdered by drug dealers and Elvis of course was going out to seek revenge, Hmm sounds like a good script for a movie! Therefore when recently I watched Steven Segal (Hollywood's Kickboxer) in "MARKED FOR DEATH" I noticed this movie had a very similar story line! In THIS movie Steven Segal plays a DEA Agent who wants to retire until a familly friend gets killed, then surprise, surprise in a TIGER TOP OUTFIT, he seeks revenge on the Jamaican Drug Dealers!! Well is this coincidence or what. Obviously THIS is the kind of movie and could have easily have been THE movie that Elvis always wanted to be in. The movie has a good moral storyline and 'action' with! Guns/Karate that Elvis could EASILY have played. However when Elvis said at the 9.6.72 press conference that he was looking around for a good script. It should be remembered that offers were few and film companies had needed footage from 18.2.70 to convince them to make THAT'S THE WAY IT IS therefore understandably with Hollywood's image of Elvis the actor this movie was going to have to be self financed and conceived - when movie offers such as A STAR IS BORN came Elvis's way he was uncertain whether to do it. Elvis's film making situation in the 70's should have been good if he had the time/initiative to start his own film company like many others have done. Elvis would have even made a good Director-he paid attention to detail in everything he did. This did not happen and just as Marlon Brando comes under great criticism for planning many projects in the 80's - but not bringing any to fruition so too is the case with Elvis and his 1970's movie projects- precious time/talent wasted never to be reclaimed.
Also at this time in October Elvis was starting to focus on the forthcoming Aloha 'special' coming up in January 1973. Therefore for his forthcoming tour from November 8th-18th Elvis was testing out his format with the Aloha show in mind.Starting in Lubbock on 8th November, Tucson on 9th, over to the Mexican border of El Paso for a show on 10th, Oakland on 11th, 2 shows in 2 days at San Bernardino on 12th + 13th, then 2 more shows in 2 days at Long Beach on 14th + 15th. One days break then 1 show on 17th in Honolulu and 2 final shows in 1 days on 18th in Honolulu to finish this tour.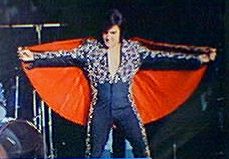 November 18, 1972 (2:30 pm) Honolulu, HA
Once again Elvis gave a brief press conference sounding very subdued from the Rainbow room of the Hawaiian Hilton on 20th November 1972. Here it was announced that it would be a benefit concert for the Kui Lee Cancer fund (Lee was Hawaii's most prolific singer/composer and he was a victim of Cancer). Elvis also said that he was looking forward to all the electricity and excitement a 'live' performance generates. After the press conference Elvis flew back t Los Angeles. In this November tour once again 'new' suits had appeared most notably the 'TIFFANY'S suit worn at Long Beach on 14th and Honolulu on 18.11. Evening show. Most striking was the BLACK JUMPSUIT with RED CAPE called the black WAY DOWN suit (because it appeared on the single release of WAY DOWN) and this was premiered at the San Bernardino 12.11.72 show. Then again at the 18.11.72 A/S in Honolulu. It's a really striking suit and reminds one of Vampire movies! (see picture above). A stunning suit!. (See 'Return to Splendor' )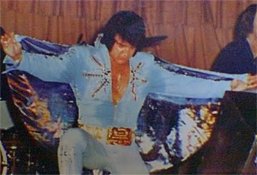 November 14, 1972 (8:30 pm). Long Beach, CA
Although Elvis looked a bit pale and puffy when compared to Las Vegas, he was still extremely good. Rare footage from El Paso and Lubbock can confirm this. Fans and the press alike loved Elvis 's November shows After not singing "BURNING LOVE" in Las Vegas, Elvis now included it in his repertoire. Other regulars now included were HOW GREAT THOU ART and the TEDDY BEAR/DON'T BE CRUEL medley much more again. Rare songs include 1 line of SANTA CLAUS IS BACK IN TOWN at the 18.11.72 E/S, "Old Shep"- 1 line/'Raindrops keep falling on my head- 1 line only at the Tucson 9.11.72 show, BLUE HAWAII a couple of lines only at the 18.ll.72 A/S as well as complete performances of FOR THE GOOD TIMES in Hawaii on 17th November as well as JUST PRETEND during the 18.11.72 E/S. Show quality is high and the best one to listen too is the Honolulu 17th November surely an outstanding show.
November 9, 1972 (8.30 pm) Tucson, AZ. Community C Arena.
TRACKLIST
2001 Theme / C C Rider / I Got A Woman / Until It's Time For You To Go / You Don't Have To Say You Love Me / You Gave Me A Mountain/ Polk Salad Annie / Dialogue / Love Me / All Shook Up /Heartbreak Hotel / Blue Suede Shoes / The Wonder Of You / Love MeTender / One Night / Teddy Bear - Don't Be Cruel / Little Sister -Get Back / Elvis talks about Ed Sullivan and sings the opening of"Old Shep"- 1 line/'Raindrops keep falling on my head'-1 line only / Hound Dog / I'll Remember You / How Great Thou Art /Suspicious Minds / Introductions / For The Good Times / A Big Hunk O'Love / Fever / I Can't Stop Loving You / Johnny B.Goode / Can't Help Falling In Love.
ATTENDANCE: 9,700 JUMPSUIT: Adonis suit black cape
Elvis was in good spirits in December as he welcomed Lisa for her Xmas holidays with her dad. He exercised, practiced Karate with the company of Linda Thompson and hosted a New Years Eve party at Graceland. The culmination of 8 weeks of preparation and 5 months of repertoire testing came to fruition with the Aloha Special on 14th January 1973. It should be noted that apart from the Las Vegas 19.8.74 opening show the viewer gets a very varied choice of songs with many not seen or heard before ( A marked difference from T.T.W.I.I. and 'ON TOUR') Not heard yet is the COMPLETE Aloha special as part of the dialogue has been edited 'out'.! Before WHAT NOW MY LOVE Elvis says I was 12 years old and had side burns- l'm lying like a rug!, then before the announcement of money raised for the Kui Lee Cancer fund Elvis mentions Marty Pasetta, his sound engineer's adding that one of his favorite actors is in the audience Jack Lord of Hawaii 5'O. I guess it would have been nice to have seen footage of Elvis around the Island on a boat or with Linda Thompson as the part with the Hawaiian flavored songs are sung to less inspiring footage incidentally why was NO MORE missed from the special. The current release missing songs due to copyright restrictions is an absolute 'joke'. Interestingly Elvis could change his line up of songs as originally the rehearsal and actual show had the same line up of songs, but when Marty Pasetta needed an extra 10 minutes for the main show Elvis easily obliged adding 3 more songs: JOHNNY B. GOODE, I CAN 'T STOP LOVING YOU and the medley of LONG TALL SALLY WHOLE LOTTA SHAKIN GOING ON
Many songs were considered for the show from this list and Elvis could just as easily chosen: MY BABE, IT'S IMPOSSIBLE or THE WONDER OF YOU?. After all these years how do the 2 shows recorded on 12th + 14th January stand up? Well performed best in the MAIN 14th Jan show are: SOMETHING, WELCOME TO MY WORLD, MY WAY, IT'S OVER, I CAN'T STOP LOVING YOU, WHAT NOW MY LOVE, I'LL REMEMBER YOU, AN AMERICAN TRILOGY and A BIG HUNK O' LOVE. Better performed are the following songs at the rehearsal show: BURNING LOVE, YOU GAVE ME A MOUNTAIN and STEAMROLLER BLUES. Elvis must have been tired after the Aloha show as he slept for 24 hours straight.
Maybe Elvis was feeling blue in Hawaii? - exhausted in the anti-climax after years build up to THE EVENT, with 'Separate Ways' climbing to #20 in the charts, the marital split up on his mind and having already toured the Hawaiian Islands so many years ago in happier times it took Elvis until he got back to Los Angeles before he would snap out of his pre-occupation and back to his usual smiling, charming self again-besides with Linda Thompson around Elvis soon felt better again. Linda was loyal and with Elvis for 4 and a half years until leaving to join Elvis's Keyboard player David Briggs in early December 1976. Although Pricilla had moved out in Late December 1971 and left Elvis on 23.2.72, Elvis seemed too busy and mostly happy in later 1972 with many exciting tours and girlfriends to dwell on the recent past. Elvis had a great time in 1972!. Elvis didn't really start to show grief until a year later in early 1973.
Following the Aloha special Elvis partied back to the west coast with friends, then it was very much 'business as usual' for the 1st 2 weeks of the Winter 1972 season at the Las Vegas Hilton. Elvis began his preparation with rehearsals on 23rd January. Snippets and bits & pieces of this rehearsal have been with us since 'PORTRAIT OF MY LOVE' first appeared in 1979 on the bootleg 'SPECIAL DELIVERY FROM ELVIS PRESLEY'. Material performed included: I'M LEAVING IT UP TO YOU, TRUE LOVE TRAVELS ON A GRAVEL ROAD, MY WAY, FEVER and PORTRAIT OF MY LOVE. Indeed Elvis was confident of his show as usual and quipped 'by the 29th at 10 O'clock, I WIL have this show together somehow.!' These 23rd January rehearsals have some great material and hopefully someday on the FTD label we can hear these gems!?. Until then all we know is confirmation of another rehearsal tape from 25th January confirmed in E.M. #413 .
I'M LEAVING IT UP TO YOU was originally recorded in 1957 by writers Don Harris and Dewey Terry Junior, then was re-vitalized into a #1 hit by Dale & Grace in 1963. This again has been available to us as a 'bootleg'. This song was sung in Las Vegas at the 8th February 1972 M/S and in rehearsal in 73'. With a swaying tempo and beat Elvis commands this song and shows Elvis in top form, however his Opening 26.1.73 O/S was pretty similar to the Aloha show -'Sweet Caroline' the main difference - and ok, but nothing remarkable or 'special' about it at all. Pretty soon the repertoire starts to deteriorate as show length and quality soon drop away. The recent 'Boot' release of the 29.1.73 D/S is still a nice show but basically 'routine'. Burning Love gets dropped by 5th February and UNTIL IT'S TIME FOR YOU TO GO by 9th on 10th February Elvis doesn't feel like singing I'LL REMEMBER YOU and very similar shows really he includes HOW GREAT THOU ART on 11th.
The TROUBLE in Las Vegas stemmed back to Elvis's daughter visit to see him (with Mum) on 1st February - although in pictures Elvis looks subdued but OK, his health was deteriorating and he missed the midnight show that night with the flu and then came a whole series of laryngitis problems extending into missed shows and the 'infamous' 15.2.73 D/S where sounding VERY hoarse Elvis started singing AN AMERICAN TRILOGY with 'I wish I was in the Doctors office ' before having to leave the stage later. Well to clear up confusion Elvis missed the 2 shows on 31st January, the midnight show on 1st February due to the 'London Flu' and also the midnight shows on 13th + 14th February due to bad Laryngitis (Elvis later gave a car to Dr Sydney Boyers - a white Lincoln continental for his throat treatment) On 15th February Dinner Show after getting Charlie Hodge to take over as Elvis leaves the stage, the STAMPS sing WALK THAT LONESOME ROAD, SWEET, SWEET SPIRIT, WHEN IT'S MY TIME, HOW GREAT THOU ART and I SHOULD HAVE BEEN CRUCIFIED before Elvis returns to the stage to perform FADED LOVE, I'M SO LONESOME I COULD CRY, POLK SALAD ANNIE, AN AMERICAN TRILOGY and CAN'T HELP FALLING IN LOVE.
After 15th February show shows continue in an 'uneventful way' until the 18.2.73 M/S (also wrongly distributed as the 19.2.73 m/s). At the l8th February Midnight show were a group of loud South Americans who had been drinking heavily. Despite the one line of 'BIG BOSS MAN' after AMEN during this show the 'attack from one man followed by three others occurred as Elvis is starting the Introductions during the show. Firstly a man from the South American group jumped on stage, soon followed by three others. Red West subdued the first man and took him backstage whilst the remaining men were met by Sonny West, Jerry Schilling, Jerry Scheff as well as Vernon Presley and Tom Diskin of Colonel Parker's office!. In the short melee that ensued Elvis knocked one of the men of the stage into the audience, where he smashed a table. Later 2 men from Peru and one from Nicaragua were arrested on charges of public intoxication. Elvis' comments to the crowd after the fight were "I'm sorry ladies and gentlemen...I'm sorry I didn't break his goddammed neck is what I'm sorry about. ...If he wants to shake my hand, that's fine If he wants to get tough, I'll whoop his ass!" After this Elvis received a standing ovation. However Elvis remained highly strung, riled and bad tempered after this incident. This was because when Pricilla had suggested that Elvis had better not see Lisa for awhile- Elvis felt Mike Stone, Pricilla's boyfriend, was behind the idea, therefore Elvis freaked out and demanded to his bodyguards particularly Sonny and Red West that he should be 'blown away'. Red suggested that a 'hit' man be hired to do the job. Yet when it was 'arranged' Elvis cooled down from his rage, saw reality and said it was probably a bit heavy and that's where it all ended. Elvis had a bad temper and sometimes said things he didn't mean whilst in a rage as well as often 'testing' the 'loyalty of his 'bodyguards from time to time to keep them sharp. When a performer is keyed up for 2 shows a night little things can play on your mind whilst under a performers pressure and of course this story has often been highlighted completely out of context for sensation in the tabloid press.
Although Elvis was obviously working 'under pressure' following the 18.2.73 M/S he did start to include 'I'M LEAVING' again on 20.2.73 M/S as well as a line of 'ALFIE' before singing 'I'LL REMEMBER YOU' Indeed Really considering the enormous personal strain at this time Elvis rallied very well for the 2 closing shows on 23rd February 1973.At the 23.2.73 D/S after another Jazzy version of "STEAMROLLER BLUES" and a soulful version of 'YOU GAVE ME A MOUNTAIN' just after a version of FEVER Elvis quipped that he was going to a medley of Irish Folk songs and started with "I'LL TAKE YOU HOME" a line of I'll TAKE YOU HOME AGAIN KATHLEEN' more follows with the usual LOVE ME after this joke intro and later on fine versions of 'I'M LEAVING' and 4 attempts to finish 'I CAN'T STOP LOVING YOU' even quipping 'HANG LOOSE' after the 3rd attempt!. Also during the closing song Elvis says in English style the words 'YOU KNEW' this gives the listener the feeling that Elvis despite a year after Pricil1a's leaving IS TRYING to finish this season in the same good form he started it with. The Closing 23.2.73 M/S is also good-highlight being the 'DRAMATIC' part 'spoken' version of 'WHAT NOW MY LOVE', Many friends were present from the world of entertainment for this closing show. including:Pierre Adidge, Bill Porter, Ed Parker, Buzz Aldrin, Englebert Humperdink, James Buck, Gerry Debourtrene, Joe Hanaha, Ann Margaret, Col Parker (outside), Bob Melvin at least! ! ! Indeed Elvis also found Pierre Adidge present for his 9.2.74 closing Dinner show- so Pierre was a genuine FAN and came to see Elvis through the years AFTER 'ON TOUR' was long finished. At this show Elvis also announced that his bass player Jerry Scheff had been with him for 4 years and was going back home to Vancouver, Canada to live, after the show as a farewell to Jerry and a possible last vegas season before tours the band struck up the bars of 'Auld Layng Syne' after the end of the show not quite sure when they would all be together again as the same group. Elvis had Linda Thompson with him after closing and they as usual stayed on in Vegas to catch Ann Margaret (as she opened after Elvis had closed) and enjoy other shows such as Marty Allen and Mama Cass Elliot at the Flamingo.
After this followed the aftermath of the 1972 separation from Pricilla ( ending in the October 9th, 1973 Divorce), satisfactory access to having Lisa during school holidays and a period of happiness basking in the interest and tours the Aloha from Hawaii had generated and a new period of stability with Linda Thompson until September 1974. Elvis loved his fans, loved Las Vegas scene and Hawaii and so until late 1974 continued going from one love of life to another. Therefore after the woeful start to 1972 Elvis went onto REDEEM Himself until late -74 continuing the LOVE IN LAS VEGAS and FOR THE GOOD TIMES IN HAWAII "ON TOUR" STILL stands up well TODAY!(and on DVD!) and( the improvements in the "NEW " edited version are noted).
Straight away it's impressive to see a full frame during opening J.B. GOODE sequence which is excellent, through C.C. RIDER and so this is virtually a 100% improvement and makes you 'think you are watching new movie during the opening sequence. Elvis mentions before shows that he was giving himself to that show i.e. not actually giving himself as projected image but concentrating all his efforts on that one show that one moment, parts of the new on tour are just superb 'close up' such as the belt during POLK SALAD ANNIE. The intros seem much better and Ron Tutt's view of the King during I GOT A WOMAN and YOU GAVE ME A MOUNTAIN are very interesting. During BURNING LOVE, Elvis is holding the lyric sheet on stage. Just as good as before is the expression on Elvis's face as the Stamps perform SWEET, SWEET, SPIRIT, the 'rare' and moving Gospel segment as Elvis watches the Stamps perform LIGHTHOUSE and the 1 liner of 'I NEED YOUR LOVIN' EVERY DAY' performed after the Gospel I JOHN. Finally AN AMERICAN TRILOGY seems to come across a lot better the new 'on tour' as French Horn and Flute are featured well. Whilst I am re-joycing at this 'new' 'on tour' I know there are still a lot of the 'old' copies being sold around the world. I don't know about Europe but certainly in Australia. Therefore before you part with your hard earned cash for a 'new' copy, make sure it is!. Why there has been no publicity as to this change I do not know and thanks are due to Simon de Wit of Holland for bringing this too fan attention as Elvis 'ON TOUR' UA 50153 release in 1993. Elvis "ON TOUR" is as Elvis said 'EXCITEMENT', so enjoy it! Hopefully the 2002 complete re-worked version can bring in 'new' songs such as complete versions of 'FOR THE GOOD TIMES, 'UNTIL IT'S TIME FOR YOU TO GO', 'IT'S OVER' and more from any undeveloped film i.e. the Charlotte footage? hopefully they can do what they did with the 'new' version of T.T.W.I.I. and 40 minutes of unseen footage for a 'new' on tour would be a definite winner and something to really look forward to and give our FAN support.