Menu
Concerts
Reviews
Multimedia
Legal Information
Songs and Tours Reviewed
Going Out On Tour With Elvis, Nov. 10-17, 1970 by Jacob Brewster
Hi to all Elvis friends and fans alike. I'd like to take this time to write about a tour that I feel has been mistakingly regarded in general as a ' bad ' tour by Elvis. I've read in alot of articles after the performances of certain shows ( Portland, Seattle, Oklahoma City ) about Elvis ' setlists, his vulnerability to do more " clowing " than singing, his show time being no more than 40 mins. to an hour, his reportoire of more " cover " songs than original songs and as I've read through these articles, it somewhat bothered me in many ways and here's why - To me, this November 1970 tour was an IMPORTANT tour, and probably one of the most uncelebrated, one of the most criticized as any in the career of Elvis Presley. I'm very optomistic about this particular tour and here's my reasoning for why it was important :
Elvis had came back to performing his live concerts in July of ' 69 in Las Vegas and got some great reviews. Some his best performances were " In the Ghetto ", " Words ", and " Suspicious Minds " to name a few but nothing out of the ordinary. Then, he went home and returned to Nevada in Jan. into Feb. of 1970 and put on an even better show ! with lots of rarites and lots of cover songs ! But, 2 days after he left Las Vegas, he went to Houston for 6 concerts, putting on pretty much the same Vegas show, but only in a bigger venue. Those were exciting as many of those songs would NEVER be performed again ( Kentucky Rain, Let It Be Me ) and while some of the others wouldn't be done outside of the confines of Las Vegas ( Walk A Mile In My Shoes, Don't Cry Daddy ).
Then, Elvis does his 3d Vegas run in Aug. into Sept. and 2 days after closing there, heads out on tour in 6 scattered - selected cities pretty much doing his Vegas show songs as well. So, to bring this point into view, the November 1970 tour is / was his 1st actual tour since 1957, having not going out @ the finish of a Las Vegas run. I'm not saying that the Vegas shows in 1970 were anything bad or the 14 concerts Elvis gave after those engagements, but what I am saying is that for the 1st time ever, Elvis did a tour without having to do it after a Vegas run and had nearly 2 months off from Sept. 15 - Nov. 9, to relax a little and get his mind in the right frame of setting before going back out. The while the Houston shows were stellar, and the short Sept. tour shows were just as good and getting his feet wet in being back on the road again after 13 years, the Nov. tour was certainly an opening of what was to come on later tours : For instance, Elvis had some ' down-time ' between tours to be himself with those close to him, then prepare himself for the upcoming task / tour @ hand.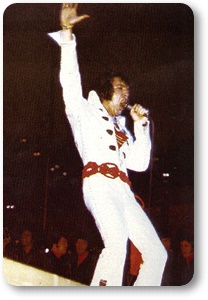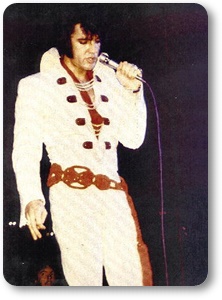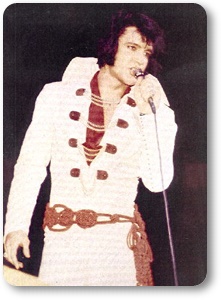 November 15, 1970 (8:30 pm) San Diego, CA.
Ok, now, the song - selections :
The Houston shows, the Sept. shows were merely an ' extension ' of the Las Vegas show and although while the setlists were terrific, they'd been well - rehearsed and to me, they were good in Vegas but in Houston and on the Sept. tour, there seemed to be something missing from it all.. Elvis was excited about going out, but nothing like he was in Nov. and that is why he got to acting up with his band and his audiences. Ok, he did more ' cover ' songs than anything ! That can be a blessing and a curse. Most of his new songs, were terrific ! Not much can beat those sessions of ' 69 - ' 71, but even though he was doing " Proud Mary ", " Sweet Caroline ", " You've Lost That Lovin' Feelin ' " and so many other un - original songs, he put so much enthusiasm into those and they should be appreciated. There were other articles out @ that time that the fans wanted the ' hits ' instead of the newer material, so he gave them a taste of those early songs with " One Night " and " Tryin' to Get to You " as well as the best of the golden oldies like " Heartbreak Hotel " and '" Blue Suede Shoes ". But still, the importance of this tour goes on : Elvis loved his religious music and for the 1st time on tour, or anytime since doing " Peace In the Valley " on Ed Sullivan in ' 57, Elvis performed his signature religious song " How Great Thou Art " and it went over extremely well. And, for the 1st time ever, he did his signature Christmas song " Blue Christmas " as well. Even though most acts of the day were onstage for 90 mins. to 2 hrs., Elvis' 40 + mins. were graced with time being with his ' family / friends ' ( which meant his audiences ! ) in a more of a ' reunion ' style to his pressence of letting the world know that " ELVIS PRESLEY IS TRULY BACK ! " and will be around for awhile !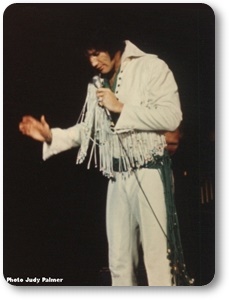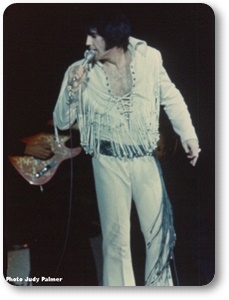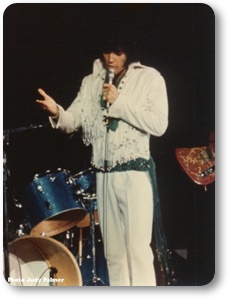 November 12, 1970 (8:30 pm) Seattle, WA.
So, before anyone wants to slam - dunk that very important 1st tour away from Vegas in the fall of 1970, take these points of view into consideration. Elvis was enjoying himself, FINALLY !! No movies to make, no staying locked up in a Vegas hotel room for 22 hrs. out of the day, he was getting out and being with his audiences. In Los Angeles, he even got Priscilla involved in his clowning around ! Lots of great perfor- mances came out of this tour and that's why I feel this was one of the most important tours of all as it was away from Las Vegas, alot looser than most of his tours later on and I wished I had been available to see these !! Feel free to comment / send replies to : memphistime27@yahoo.com
God Bless,
Jacob Brewster