Menu
Concerts
Reviews
Multimedia
Legal Information
Oakland, CA by Francesc Lopez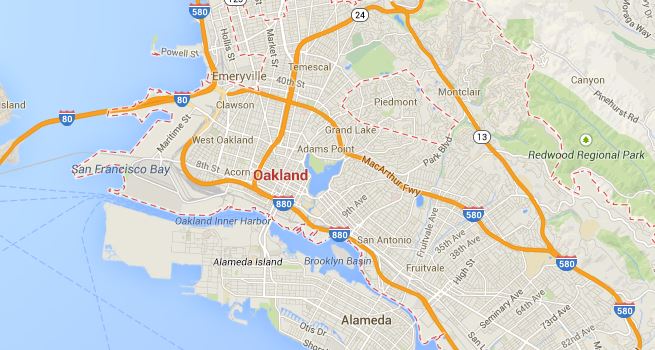 The Henry J. Kaiser Convention Center (formerly, the Oakland Auditorium, aka the Oakland Municipal Auditorium) is a 1915 Beaux-Arts-style building in the Civic Center neighborhood, directly below Lake Merritt. Designed by architects John J. Donovan and Henry Hornbostel (who also contributed to the design of City Hall), the building is not to be confused with the Oakland Convention Center. It was built under the supervision of Commissioner of Public Works, Harry S. Anderson.1
When we got there, the Coliseum was fenced out, and there was some contruction behind it, "but for the last half-decade, the place has sat vacant and empty of life, slowly deteriorating. The city, which owns the building, closed it in 2006 because it wasn't profitable. Today the building needs at least $7 million worth of improvements on the inside, according to Oakland City Councilmember Patricia Kernighan, including fixing the heating system, if it is going to be operational again. Attempts to sell the building, or proposals to turn it into something else, like a library or international trade center, have failed".2
Elvis Presley performed in this Coliseum during the fifties. Two concerts were scheduled on June 3, 1956 and one concert on October 27, 1957 during the West Coast tour.
The Oakland Tribune newspaper reported on June 4, 1956 that "Elvis Presley fans all but tore the roof off the Oakland Auditorium Arena - not once but twice - as the youthful singing sensation proved yesterday he is, without a doubt, the most amazing of entertainers. Presley whips through a song as if he had giabbed a live wire. Some 6,400 madly screaming fans at two performances responded as if they, too, had been jolted by the same current".
On October 27, 1957, Elvis came back to the Auditorium where more than 7,000 screaming girls received him. Elvis, clad in a bright green sport coat, black slacks and black shirt, sang 14 songs in 30 minutes on stage. The remaining of the 110-minute stage show was made up of variety acts and the Jordanaires singing group.
His last song was "Hound Dog," by prearrangement with the protective police. As he sang the closing bars he edged to the back of the stage and jumped down, through a rear door into the Auditorium Theater. He left the building by the theater entrance and was driven off in a car.
Now the old Auditorium sits in the middle of a city not interested in him, a city that a 100 years ago, built the old giant to:
"AUDITORIUM OF THE CITY OF OAKLAND DEDICATED BY THE CITIZENS TO THE INTELLECTUAL AND INDUSTRIAL PROGRESS OF THE PEOPLE"
For more information about the Oakland Auditorium, check Scotty Moore website

---
1 According to Oakland Wiki

2 According to Once the center of civic life, former Oakland Auditorium now vacant... by Ryan Phillips