Menu
Concerts
Reviews
Multimedia
Legal Information
Songs and Tours Reviewed
"A HILL IN LAKE TAHOE 1976" by Geoffrey Mc Donnell,Australia.
Elvis appeared in Lake Tahoe on 30th April 1976 for his 5th Appearance only 3 days after closing in Spokane on 27th April. This wasn't much of a break as he was going to perform 14 shows in Lake Tahoe performing until 9th May 1976.Elvis was overweight not looking his best, but he did seem to be in excellent spirits for this season. This seems to be verified by his compliance to perform many, many requests this season as well as developing other songs not heard of for years and varying his repertoire considerably to make entertaining shows for his Fans in Lake Tahoe.
Lake Tahoe unfortunately for ELVIS FANS was however often disappointing. Why? Well really the problem lay with the Hotel. This miss Management of Fans often resulted in many people WITH TICKETS failing to get admittance to a show and this boomeranged back to the Hotel who would often have to call in the Police to break up unruly fights right outside the showroom where the Hotel had OVERBOOKED the show! This meant if you were a fan traveling to Lake Tahoe there was NO GUARANTEE at all that you would see a show-a very unsatisfactory situation for traveling loyal fans. Maybe that's why those inside the showroom were so enthusiastic about the shows, after all they had gained entry!-not such an easy task.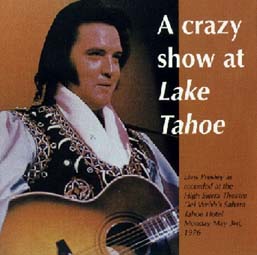 Initially the Hotels way around overbooking(they didn't actually expect everyone who had booked to really turn up!) was simply to squeeze more in the room! The High Sierra Room would comfortably hold 1,200 for a dinner show and 1,400 for a midnight show. For opening night their had been 1,700 for BOTH shows on 20.7.71! For the final show on 2.8.71 staff had squeezed 2,000 fans into the showroom - which is Dangerous! As soon as the May 73 season was announced telephone lines between Lake Tahoe and Southern California were jammed for 2 weeks! When the shows started there were reports of RIOTS when hundreds of fans with advance reservations were not admitted to a show. On Saturday May 5th (the day after opening night) things quickly got out of order as 70 fans with confirmed seats were not admitted to the dinner show, then as these 70 people gained admittance to the midnight show, the Hotel Management allowed in invited guests('BIG' Spenders/'High' Rollers) followed by people staying in the Hotel who had show reservations and LAST OF ALL any Fans( who had reservations) but who were not staying in the Hotel. This led to 200 fans - most of whom had been standing in line for 4-5 hours and all of whom had come long distances to see Elvis - were left outside at Showtime!. A mini - RIOT occurred, as with most Casino's the showroom entrance was right in the middle of the main floor ,fans took advantage of this by becoming very vocal. Some began ripping the pictures and posters of Elvis off the walls. Others threatened to sue the Hotel. The situation didn't calm down until the police arrived. After Elvis became sick with pneumonia canceling shows from 17th-20th May 73 Fans must have become even more dissapointed!. In 1974 May season the Hotels reaction to overbooking was to put on an EXTRA SHOW at 3am on Monday 27th May just to accommodate Fans who had swarmed to Lake Tahoe just to see Elvis. When Elvis retuned for 8 shows in October 1974 to make up for cancelled 1973 shows things were worse for the Hotel as to 'squeeze' more in all Elvis shows became "Elvis in Concert" for $17, which included 3 drinks NO dinner shows. This season was uneventful but after the shows in an October 1974 lawsuit Edward L. Ashley was claiming that on Monday May 20th 1974 he was beaten by Elvis's Bodyguards' Sonny' West, David Stanley, and Dick Grob, outside of Elvis's penthouse suite at the Sahara Tahoe Hotel. He claimed he had been invited to an after show party (paying $60) but was refused addmitance. He had a $6.3 million lawsuit filed against the Hotel & Elvis-claiming they were insane!
Thus finally Elvis was back again in Lake Tahoe for an already COMPLETELY SOLD OUT 14 show 1976 season from April 30th-May 9th.(See Photo of outside Marquee)Tickets were $20 per person and seating was supposed to be limited to 1,800 per show. However straight away the Hotel were making errors/assumptions On the very first opening night Elvis was given no notice that he had to perform 2 Opening shows(presumably because of demand again!)This Elvis announced during the opening nights show as a surprise to him!. Elvis in Lake Tahoe was ALWAYS a mixed blessing for Del Webb's Hotel as He was usually overbooked, their were lawsuits against the Hotel and in this last season Elvis again and again and AGAIN didn't give a dam what the Hotel wanted as he would often stay on stage singing for TWICE as long as the Management liked and said he didn't care what they liked as long as the audience wanted to hear him he'd keep on singing. Whilst this must have delighted fans this must have rubbed salt in the wound for the Hotel who were finding Elvis a hell of a strain to put up with!. Norman Duncan of Scotland in 1995 had a good look at Lake Tahoe through the years and especially 1976 in E.M. #430,however the important question that Norman asked STILL isn't answered- which is Were any sound recordings made? I personally feel their must have been HEAPS (after all most of 1974 was!)Also so far I've seen NO video footage from Lake Tahoe Surely their must be some?.
Really in the last year or so of Elvis's shows Lake Tahoe represents the last time that Elvis gave a MAJOR overall and expansion to his 'standard' shows repertoire. By this I mean 'new' material not sung 'live' before and the expansion of the introductions featuring solos by the band with a song that Elvis could if he wanted sing along too. All the audiences were good and responsive (after all they'd got inside the showroom!) Elvis took more requests than ever before and delighted audiences indeed his closing show was 2 hours long and Elvis and the Colonel gave Roses to all the Ladies as they entered the showroom that closing show night.