Menu
Concerts
Reviews
Multimedia
Legal Information
Concerts Reviewed - 1974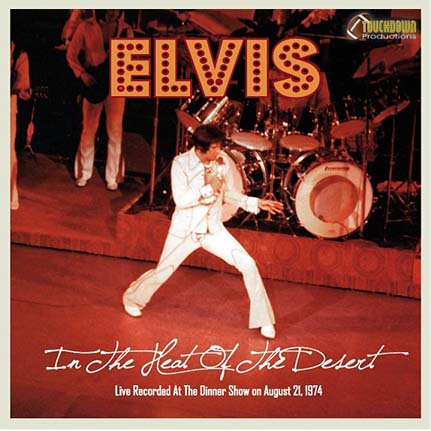 In The Heat Of The Desert - Las Vegas, August 21 1974 DS"
A review by Johnny Van Der Geld, October 13 2014.
This must be one of my favourite seasons, with great setlists (to bad he didnt stick to the opening night one..) But still great selections, and Elvis in mostly fine voice.
This cd starts of with great versions of See See Rider, I Got A Woman, while Love Me is passable.
If You Love Me (Let Me Know), It's Midnight, Big Boss Man are again great versions, Fever is a joking version "When you call my name, ELVIS!!!" & "You're Just A Monkey" jokes, Love Me Tender is passable. All Shook Up is the same, I'm Leavin' is a good version, Softly As I Leave You is beautiful instead of "Between midnight and day" elvis says "Between midnight and dawn", it's slightly incomplete only missing the line "And he wrote", further it's complete and a beautiful version.
Elvis says "Now let's get serious" and jumps into Hound Dog, starts off strong, remains okay for most of the song, Not too bad a version, I've heard worse.
You Gave Me A Mountain is heartfelt, sung with passion, and always a favourite of mine. Polk Salad Annie starts, It's a strong version, at the end of james guitar solo elvis notes "That's sweet" great version, elvis notes after the song ends "Well.. that woke me up anyway..", then we get to the introductions which at this stage was still just around 3 minutes. elvis jokingly introduces john wilkinson as coming from "Wahoo, Nebraska" and he says something else that i can't hear to well, then rectifies "From springfield, Missouri, John Wilkinson",and "On the bass, From Lake Charles..ah.. Baton Rouge, Louis.. Bat-on Rouge, Duke Bardwell", and jokes "Our conductor, From Guadalajara, New Mexico, Joe Quercio".
With the introductions done Elvis gets into a great version of a song he recorded at stax the previous year, If You Talk In Your Sleep, after that Why Me Lord which is a joking version. Teddy Bear/Don't Be Cruel is passable, Bridge Over Troubled Water is a great version, Sung Straight and with power, Similar to the one in Greensboro in 1972. Let Me Be There is great to, as is the reprise. "We sung it last time and everybody forgot their part, 90 people goin huh what?" "They gonna have the Jackson Five tonight" Elvis jokes.
The Hawaiian Wedding Song starts of a bit jokey but does get serious as the song progresses until near the end when elvis sings "I Do.. Love You.. Keep Playing" and the end is messy. Elvis without any "till we meet you again" goes into Can't Help Falling In Love, with most lyrics sung, ending this mostly great show.
Elvis hardly talks to the audience, except for some joking here and there, Real fun show to listen to, and one of the better ones from this season with almost every song sung well. Lovely addition.
The sound is fair, not too bad, Elvis and the band can be heard, and you'll get used to the sound fast, I'd rate is as a 6/10, Sometimes the dialogue is a bit inaudable, Artwork is okay, Altough there's no liner notes, Just a newspaper review spliced over several pages, with lovely photo's altough most have been seen before. Still a very enjoyable release, and of course a new show, Now making this august/september season complete.
(c) Johnny Van Der Geld