Menu
Concerts
Reviews
Multimedia
Legal Information
Concerts Reviewed - 1975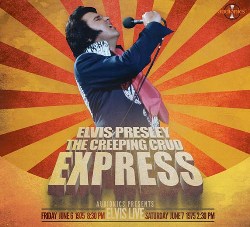 The Creeping Crud Express
Shreveport, LA. June 7, 1975 (2:30 PM)
by Johnny van der Geld
This is a track by track review of the Shreveport show while listening to it for the second time:
I Got A Woman-Amen (Incomplete) - Incomplete recorded and picks up at the "Amen" Part of the show, Elvis makes note that "he's stuck" while he shakes his legs. The JD divebomb ends with Elvis saying off mic "That's good keep it up before the applause stops!" back on microphone Elvis says: "I thought you guys knew that by now, don't leave any dead spots!"' and ends with the last lines of "I Got A Woman" I can't really judge this version as its incomplete but what I hear is that Elvis is in good spirits tonight!.
Elvis talks and jokes some with the audience asking James Burton "Is this your hometown James," also he makes note of the sound issues and calls his sound engineer Bruce Goose.
Love Me - Not one of the best versions, It's a usual Kiss 'N Scarf version. It has an extended ending for the Sweets, before the song ends. Elvis makes note of the creeping crud he caught in Dallas (featured on CD-1).
If You Love Me Let Me Know - During the intro to this song Elvis yells "Stumps Get outta there!." Obviously talking about the Sweets drummer "Jerome Stump." This is one of the better versions of "If You Love Me, Let Me Know." I always liked this song and I'm pleased with this version! I like this version!.
Elvis jokes "the turnaround gang is there to, I'm on ma way on ma way.! There's feedback again and Elvis says "Watch the feedback, it's about front honey" he says to a fan. Elvis jokes off mic and I can only hear him saying: "See I just got through eating". Elvis introduces Love Me Tender.
Love Me Tender - After the first few lines Elvis is already distracted by the fans in the audience, joking and kissing. Elvis yells "damn thornes AH!." He probably just got a rose from an audience member and cut himself?. This is a trowaway version.
"Honey you wait just a minute cause your just 6 years old and shes about 19 or 20... 30.?? Elvis laughs and says whatever she's gotta start somewhere!, I'm just trying to fix you up kid, I can't kiss you like that because you are little, on the cheek maybe?"
All Shook Up - Trowaway, but fun. Not good not bad. Elvis jokes a bit during the song saying "That was not a boy it wasnt!" again he notes this after the song. "Is that a boy?? it's allright ya little fella I kissed him on his cheek, the spotlight blind me it could be a rhino out there I'd kiss it!"
Teddy Bear - Don't Be Cruel - Not a rushed version, It's an OK version, But not anything special.
"It's a strange time of day to kiss a bunch of people, it really is, nobody kisses at 4 o'clock in the afternoon, do they??" Elvis jokes after the medley.
Hound Dog - Straight into this song, It's an okay version. Not anything special about this version either. The song lasted 1:35 minutes.
Elvis does a little excerpt on All Shook Up by changing the lyrics "Hold it honey, I'm all tangled up uhuh uhuh uhuh uhuh" Elvis asks James once again if this is his hometown, and introduced The Wonder of Ya'll uhh you!
The Wonder Of You - Good version! altough Elvis noting for "Tom sit down!" is quite distracting.
Burning Love - Get's a good workout! one of the highlights and this version is great!. Elvis asks for the house lights to be turned up, and the introductions start.
"How can you see back there?? can you see okay??, Cause i cant even see you!. We have ah what a portrait cake for you?? whats a portrait cake is it like chocolate or vanilla?" "The sign says we love "Ailvis", thats what my daughter says "What ya gonna do hey "Ailvis." this reminds me of the same thing Elvis said in Vegas back in August '74." Elvis jokes some more, before introducing the band. By all the joking the introdutions (plus solos) it actually runs for 13 minutes. I'm not going much into the introductions because you just gotta hear it.
Johnny B. Goode - Elvis does his go Johnny go thing twice, and James kicks ass on this version!. "When I first started working in Shreveport, on the Louisiana Hayride, do they still have it?? When I started working here I was like 19 years old and that was 7 years ago, thats not funny, was only 7 years ago" The rest of the solo's are good too.
T-R-O-U-B-L-E - Energetic version! It's great and Elvis puts on a good version! one of the best!. I like the part that Elvis actually sings " Say hey!!, say Hey!! Hey Hey Hey!! Say Hey!.
>Why Me Lord? - A joke version, Elvis tries to get JD to laugh and makes funny sounds, it's a fun version!, I wouldn't say a good version, as Elvis jokes through the most of it! It's just FUN!.
How Great Thou Art - Great version! One of the best from this season!.
Let Me Be There (With a reprise) - Energetic version once again!. Not to fast either. good version!.
An American Trilogy - It's an (Almost) Serious version when the stamps sing "Oh i wish i was in dixie" Elvis makes the joke "You are!" and laughs a bit. Elvis is in a strong voice. But fails to keep the emotion of the song intact by joking a bit to much. Elvis yells "Hot Damn Right" After the trumpet solo instead of a flute solo" And ends it on a high note. But this is certainly not his best version. Which for me still is the Hampton Roads '72 Version.
Little Darlin' - It's fun to have yet another live version of little darlin!. Fun version! "Who put this copper on the floor" Elvis says during the song. I like this version, altough yet it ain't a serious one. I don't think it was ever considered to be a serious song, and was just a way for Elvis to have a bit of fun.
Elvis asks "How long has it been since we worked here?, 2-3 years? Noo I've been here since then honey, you all wanna argue about it? I'll find out, We never played Shreveport? Charlie, I didn't ask you for a speech I was just asking for a date. Elvis jokes, anyway it's a pleasure to be here, and this next song is very serious," Elvis notes.
Mystery Train - Tiger Man - Great version! Upbeat, good tempo, and Elvis is in a good voice. Can you imagine seeing Elvis doing this, right in front of your eyes!. Another highlight as it always is and was!.
Elvis thanks the audience, and that anytime they want him back in Shreveport just call and he'll be back.
Can't Help Falling In Love - Elvis sings most of the lines, and its a good version for 1975 that is. Altough I miss the strong ending.
Closing Vamp - You know what this means... the show is over.
Conclusion
It's a great show with Elvis obviously happy to be back in Shreveport after nearly 20 years. Elvis makes efforts although I wished he did a bit more effort on the oldies but goodies as Love Me, All Shook Up, Love Me Tender.
Nonetheless, this now contains my favourite versions of T-R-O-U-B-L-E, Burning Love and Mystery Train - Tiger man!. Elvis jokes alot in this show, which is great to hear Elvis having some fun!. I'd rate this show perhaps 8 out of 10. As it does contain some less good performances and the introductions run for nearly 13 minutes.
It's an unreleased show. It's a fun show, it has good versions of songs but not without some less good ones. If you don't have it yet. BUY IT! if only for Elvis' humour
Johnny van der Geld