Menu
Concerts
Reviews
Multimedia
Legal Information
Road Trip To Texas Part 2 by Francesc Lopez
Stephenville and De Leon, TX.
At the Public Library in Stephenville, we discovered the microfilm equipment did not have the capability to print, so we took a photo of the only ad we found. The librarian told us that the newspaper archives were also held at Tarleton State University nearby, and they had printing equipment, so we went to the university library. It was a beautiful campus with an impressive library and a wonderfully helpful librarian. We were able to print out a better copy of the ad for the performances.
Elvis played in Stephenville and De Leon on July 4, 1955. He was scheduled to perform with a group of singers, in a program which alternated between the two cities. Both programs started at 10:00 AM and continued until 5:00 PM, with some singers performing first at one venue, and then travelling to the other; and vice versa for the remaining performers. A similar ad which announced both concerts appeared in the Stephenville Empire Tribune, and the De Leon Free Press.
We visited the Stephenville Recreational Hall where Elvis played that 4th of July. The Hall was built in 1936 and was in use as a gymnasium the day we visited. We were able to go inside, walk around, and take some photos of the stage and interior of the building.
De Leon is 25 miles west of Stephenville. The De Leon concert was the only performance where Elvis sang only gospel songs, reportedly because the show included a tribute by fellow performers (Blackwood Brothers Quartet) to 2 members who had died in a plane crash the year before. While in De Leon, we wanted to visit Hodges Park where Elvis appeared, but unfortunately, the park is now located on private property with no public access.
After De Leon, we headed to Waco, another two hours by US Highway 6.
Waco, TX.
Elvis played several times in Waco, Texas. We were interested in only one of the dates that we didn't have any information for: April 23, 1955. Elvis played in Waco as a part of the Louisiana Hayride with Jim Reeves and Slim Whitman, among other artists.
The Heart O' Texas Coliseum, built in 1953 and renovated in 1999, was renamed Extraco Events Center in August 2010. The Heart O' Texas Fair & Rodeo, held for a week in October, is its largest attraction of the year, hosting a PRCA rodeo event and accompanying fair, which attract hundreds of thousands of visitors.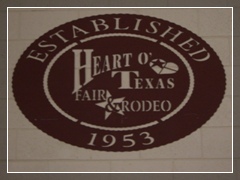 We arrived after 5pm and found the center's office was open, but the only person there was about to enter a meeting. He invited us to return the next day, so we thanked him and turned around sadly, since we needed to be on our way out of town and could not return. Then he said, "Wait - go ahead and go inside to take a look while I'm at the meeting. There's a guy in there preparing the arena on a tractor. You can take any photos you like." We were ecstatic at his kindness. "Yes, Sir!," I answered.
The Coliseum was being prepared for a Rodeo. The interior corridor walls were decorated with photos of American icons who have performed there - mainly cowboys and country singers - sadly no Elvis.
Waco was now just a page in our trip's log, and Austin was the next stop - two hours south on US Highway 35. Austin is a busy city where we encountered congested highways because we arrived during rush hour.
Austin, TX.
The capital of Texas, Austin is a very beautiful city with magnificent buildings like the Capitol, whose grounds host The Texas State Library. Besides the Austin newspapers, they have a long and extensive catalog of other newspapers from cities that we couldn't get to during this trip, such as Beaumont, Wichita Falls, Houston and Dallas, among others. We were able to spend three days researching in the State Library archives.
Elvis played at Dessau Hall on March 17. 1955. The Dessau Hall was established in 1876 as a social gathering place for German immigrants, and was rebuilt twice due to fires, around 1940 and 19671. The current building, built in 1969, was refurbished in June 2009 but quickly closed and now hosts a Mexican night club called El Gran Mexicano Night Club2.
On
August 25, 1955
, Elvis played at the Sportscenter which was later renamed the
Armadillo World Headquarters
. It was closed on December 31, 1980 and subsequently demolished.
Another place where Elvis played which has also been demolished is the Sky Line Club. Elvis played there on October 6, 1955. The last place where Elvis played in Austin during the 50's was the City Coliseum, which was demolished in 2002.
After 3 days in Austin, we took US Highway 35 south for the short trip to San Marcos, TX.
San Marcos, TX.
The San Marcos Daily Record didn't mention anything about the Elvis Presley concert on October 6, 1955 date. Elvis played at the Southwest Texas State University Auditorium, now called Evans Auditorium.
While in San Marcos, we had the opportunity to visit some friends who graciously took us on an exploration tour of the gorgeous Texas Hill Country, where we also stopped for dinner at an authentic Texas barbecue stand.
---
1 According to Texas live music venues opened before 1980
2 According to Scotty Moore Official website